Jeremy Corbyn has been forced to clarify he was only able to find a seat on a Virgin Train when a family was upgraded after the operator challenged his account of an 11 August journey from London to Newcastle. The Labour leader hadalleged the train was "completely ram-packed" and that he had to sit on the floor.
"This is a problem that many passengers face every day on the trains, commuters and long-distance travellers," the left-winger said in a video published on The Guardian website on 16 August.
"Today this train is completely ram-packed. The staff on the train are absolutely brilliant, working really hard to help everybody."
Virgin Trains hit back today (23 August) by releasing CCTV footage revealing that Corbyn, who wants to renationalise the UK's railways, was able to have a seat.
But a spokesperson for his re-election campaign, Jeremy for Labour, said he only moved to the seat after a family was upgraded.
"When Jeremy boarded the train he was unable to find unreserved seats, so he sat with other passengers in the corridor who were also unable to find a seat," the spokesperson said.
"Later in the journey, seats became available after a family were upgraded to first class, and Jeremy and the team he was travelling with were offered the seats by a very helpful member of staff.
"Passengers across Britain will have been in similar situations on overcrowded, expensive trains. That is why our policy to bring the trains back into public ownership, as part of a plan to rebuild and transform Britain, is so popular with passengers and rail workers."
Also Keren Harrison (pictured below), who took a picture with Corbyn on the train, said the Labour leader leader "only got a seat after staff shuffled others around for his party to sit together".
A spokesperson for Information Commissioner's Office (ICO) the told IBTimes UK: "We are aware of the publication of CCTV images of Jeremy Corbyn and are making enquiries.
"All organisations have an obligation to comply with the Data Protection Act and must have legitimate grounds for processing the personal data they hold.
"Where there's a suggestion that this hasn't happened, the ICO has the power to investigate and can take enforcement action if necessary."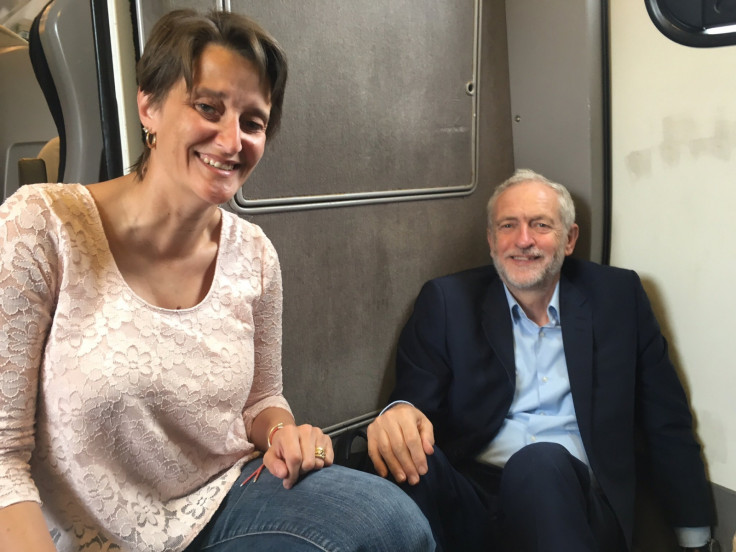 The key dates of the Labour leadership election

18 July: Signing up as a registered supporter to vote in the election begins.
19 - 20 July: Number of MP nominations for each candidate to be published.
20 July: Deadline for people to sign up as a registered supporter closes.
22 August: Ballot papers will begin to be sent out around the UK, but to Labour Party members only.
21 September: Deadline for ballot papers to be returned is midday.
24 September: The election result will be announced at a Leadership Conference in Liverpool.