Oxford Labour anti-Semitism row: Jewish students 'unsurprised' by reports of left-wing bigotry
Jewish students at one of the world's most prestigious universities have said they are "unsurprised" at the accusations of anti-Semitism aimed at left-wing members of the student body following the resignation of the co-chair of the Oxford University Labour Club (OULC). Alex Chalmers announced he is to stand down from his role at the largest university Labour club in the country over concerns that some members have "a problem with Jews".
Chalmers said he arrived at his decision after the group voted to support the upcoming Israel Apartheid Week. He also outlined his distress that some members of the club causally use the term 'Zio' – a term for Jews Chalmers said is "usually confined to websites run by the Ku Klux Klan" – have expressed their solidarity with Hamas and claimed some senior members of the club believe most accusations of anti-Semitism are "just the Zionists crying wolf".
Following Chalmers' resignation, the Oxford University Jewish Society (JSoc) said they are "saddened" but "unsurprised" of the reports of anti-Semitism, claiming some students have been "laughed at and mocked" when attempting to raise the issue in the past.
A spokesperson added: "It is not the first time that Oxford JSoc has had to deal with anti-Semitic incidents within the student left and it will not be the last. It is a significant and worrying issue and one that, on many occasions, Jewish students have felt that they are fighting alone. We are grateful that Alex Chalmers has made the statement that he did and has brought the issue of anti-Semitism to the fore in a way that Jewish students have so far been denied.
"Oxford JSoc strongly rejects any accusation that Jewish students are inventing claims of anti-Semitism to discredit Palestinian solidarity politics. This is a repeated trope that has been used to silence Jewish students and it will carry weight no longer. When anti-Semitism intersects with Palestinian solidarity politics, it is not the job of Jewish students to be quiet, but the job of Palestinian solidarity activists to rid their movement of anti-Jewish prejudice.
"Many of Oxford's Jewish students who hold progressive views have long felt excluded from left-wing political spaces. Jewish students who raised the issue of anti-Semitism at the OULC meeting were laughed at and mocked. It is high time that this issue is confronted. We hope Alex's resignation triggers a broader awakening amongst student political movements, and that anti-Semitism, particularly on the student left, is finally taken seriously."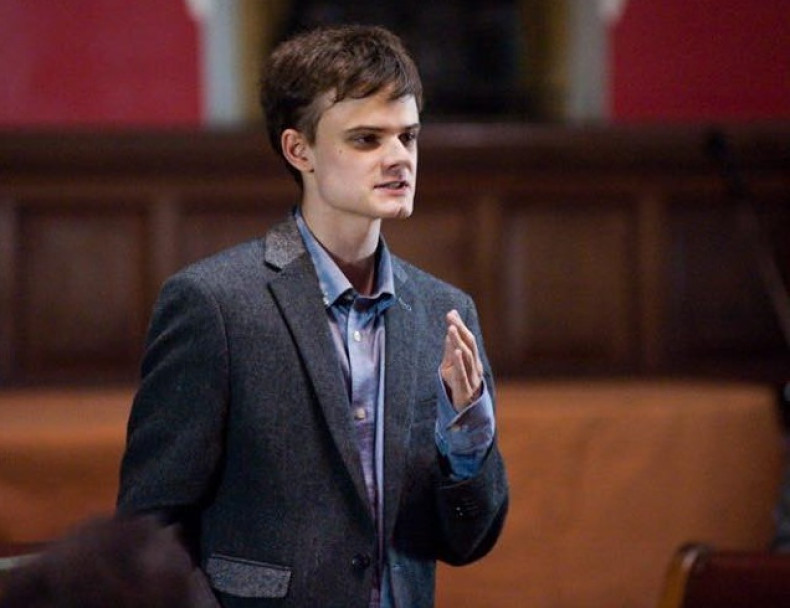 The OULC said they are looking into the allegations raised by Chalmers and added that it is "horrifying" Jewish students do not feel safe on campus. Fellow co-chair of OULC, Noni Csogor, said "We take allegations of anti-Semitism in the club very seriously and I will be discussing, with my executive committee, how to deal with the kinds of statements Alex mentions, and what concrete steps we can take in future to preserve a club that's been a safe haven for Jewish students in the past."
Union of Jewish Students (UJS) campaigns director Russell Langer added: "The reports of anti-Semitism coming out of the OULC are extremely concerning. These reports, along with the decision of OULC to endorse Israeli Apartheid Week, show that OULC are against the interests of Jewish students. I commend the bravery of former co-chair Alex Chalmers in his decision to resign from OULC and bringing this issue to the attention of the wider public. Considering the number of senior politicians who have passed through OULC I hope that this matter is investigated urgently by the Labour Party with appropriate action taken.
"On a national level UJS has an extremely positive relationship with Labour Students with many local clubs being strong supporters of Jewish students. It is a shame that OULC seems to be an exception to that rule."
A Labour Students spokesperson added: "We unequivocally condemn any form of anti-Semitism. We are taking these allegations very seriously and will do whatever is necessary to ensure every Labour Club is a safe space for Jewish Students. We are proud of the long history we have of working with the Union of Jewish Students and the National Union of Students to protect Jewish students on campus and this will always be a top priority for Labour Students."