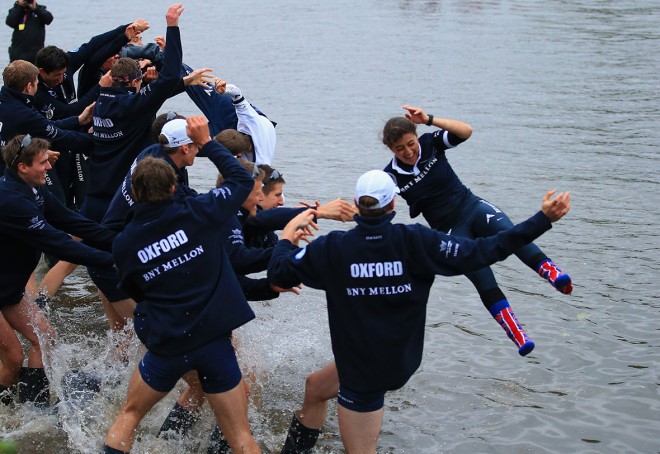 The victorious Oxford boat race team were targeted by theives as they raced Cambridge in the annual Thames rowing spectacle.
The crew returned to discover thieves had stolen personal valuables, including cash, credit cards, watches and iPods. The total value was estimated at thousands of pounds.
But the incident failed to put a dampener on celebrations for Oxford rower Constantine Louloudis whose remedy was to keep on downing champagne.
He wrote on Facebook: "Unfortunately, all our valuables were stolen while we were putting in the big strokes.
"But we couldn't really care about that right now. Champagne has never tasted so sweet!"
Scotland Yard said the valuables were kept in a rucksack and a red bag left in a blue mini bus, while the famous boat race took place.
They were stolen from the Quintin Boat Club, in Chiswick, west London. The rucksack was later found with a purse from which a sum of money was missing.
A Metropolitan Police spokesman said: "When the driver returned to the minibus she found the valuables bag and rucksack had been stolen. The rucksack was later found in a nearby toilet with a purse containing £40 taken from it."
Malcolm Howard, Oxford Boat Club President, said the university's 78th victory in the race - which closed Cambridge University's margin of victories to only three, had been spoilt by the incident.
He said: "We were irritated about the theft but we did not let it spoil the win. The matter is now the hands of the police. No indication of who stole from the minibus."