There was a time when the idea of the live action Paddington Bear movie conjured a sense of dread, but following the delightful first film it quickly became a shame that these pictures weren't going to be made on an annual basis.
Paddington's big screen adventure three years ago was joyous and innocent in a way few family films are. It was a wholesome tale with a good message that wonderfully brought to life the late Michael Bond's famed stories.
Director and co-writer Paul King created a timeless look for the film's fanciful, cosmopolitan London setting, in turn reflecting the timeless goodness at the heart of Bond's tales about a kind but clumsy Peruvian bear.
Its message of inclusivity and kindness was as sorely needed then as it always has been, and well, it's 2017 now, so...
Paddington 2 opens with London's favourite bear living a quaint and happy life with the Browns: his adopted family. We find him searching for the perfect birthday present for his dear Aunt Lucy.
With a skip in his step, he enters Mr Gruber's (Jim Broadbent) antique shop, and there he finds an old pop-up book that would be perfect... but he isn't the only one with eyes on it. When it's stolen, Paddington is implicated in a robbery and winds up in prison for a crime he didn't commit.
Inevitably, shenanigans ensue, involving a plethora of British talent having a blast no matter the size or importance of their role. Sanjeev Bhaskar, Jessica Hynes and Ben Miller play friendly neighbours while Peter Capaldi returns as neighbourhood ninny Mr Curry – and there are many more cameos best left unspoiled.
Hugh Grant steals the show, however, revelling in the opportunity to play eccentric, campy thespian Phoenix Buchanan, who loves disguises and the limelight almost as much as he loves himself.
Like Nicole Kidman, who played an unhinged taxidermist in the first film, he chews on every bit of scenery he can find, practically gnawing it down to nothing by the time he's finished spinning his lines. While he's on screen, Grant's only real competition comes from his numerous, ridiculous costumes.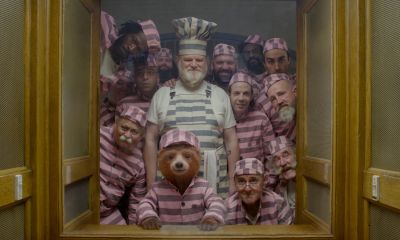 Brendan Gleeson is equally charming as an initially menacing prison chef who meets his match in Paddington. Like every character in the film, the young bear's irrepressible kindness leaves a lasting impression, and that extends to the audience too.
During the production of the first film, Colin Firth was initially cast as the voice of Paddington, but he and the filmmakers mutually decided – quite rightly – that he wasn't the best fit. Enter Ben Whishaw, who proved a perfect replacement.
Here Whishaw shines again, as does the Brown family. Sally Hawkins and Julie Walters bring their considerable talents and, unencumbered by a trite storyline casting him as a cold patriarch eventually won over by the young bear, Hugh Bonneville is free to have much more fun this time around.
Beyond all the brilliant actors involved, the team behind the camera is thoroughly deserving of merit too. The set and costume designs are exceptional, and there are flourishes of visual invention in the cinematography that speak of King and his team's confidence following their success three years ago.
Some sequences are stunning, including one that brings the aforementioned pop-up book to life.
Our verdict
Paddington 2 is a big bear-hug of a movie that delivers a fun-filled adventure for all ages rooted in a message of warmth, inclusivity and doing well by people. Its story is more involved than its predecessor, but simple enough and rich with good humour and enthusiastic performances, none more memorable than Hugh Grant's who's eminently watchable as a dastardly actor. For all the fun Paddington 2 is an emotional journey too, one sure to conjure a few happy tears in its final moments.