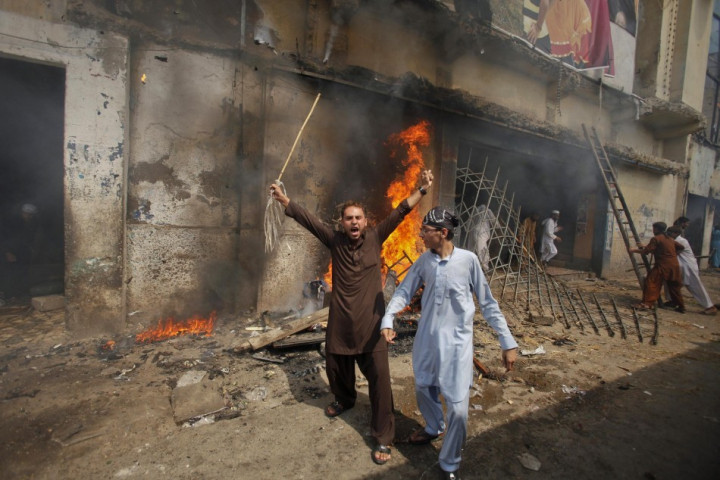 A Pakistan minister has announced a reward of $100,000 (£61,620) to anyone who kills the maker of the anti-Islam film Innocence of Muslims.
"I announce today that this blasphemer, this sinner who has spoken nonsense about the holy Prophet, anyone who murders him, I will reward him with $100,000," said Railways Minister Ghulam Ahmad Bilour.
"I invite the Taliban brothers and the al-Qaida brothers to join me in this blessed mission."
"I call upon these countries and say: Yes, freedom of expression is there, but you should make laws regarding people insulting our Prophet. And if you don't, then the future will be extremely dangerous."
The government of Pakistan has dissociated itself from the comments made by the minister. However, he is unlikely to be removed from his post.
"He is not a member of the (ruling) PPP (Pakistan People's Party), he is an ANP politician and therefore the prime minister will speak to the head of the ANP to decide the next step. They are not ruling out action against him but say he will stay in his post for now," Shafqat Jalil, spokesman for the prime minister's office told the BBC.
Up to 21 people have been killed in Pakistan in the anti-Islam film protests mainly in the cities of Karachi and Peshawar.
The film was made by California- based Egyptian Copt, Nakoula Basseley Nakoula who has since gone into hiding after being interviewed by federal authorities.
Meanwhile, anti-Islam film protests continue to sweep Islamic countries. In the Bangladeshi city of Dhaka, thousands of protesters clashed with police. Batons and teargas shells were used to disperse angry protesters who set on fire several vehicles.
In Nigeria, thousands of people marched through the northern city of Kano but the protests were more or less peaceful. Demonstrators chanted "death to America, death to Israel and death to the enemies of Islam" and burnt American flags.