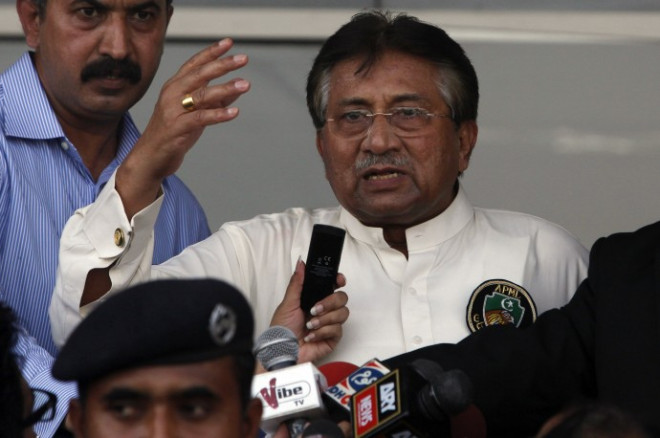 A bomb exploded on the road taken by the convoy of Pakistan's former president Pervez Musharraf, about 20 minutes before he was to reach the spot.
Musharraf, who is facing trial for treason and is not allowed to leave the country, escaped the assassination attempt unhurt. No other casualties were reported and no group has claimed responsibility so far.
The bomb was placed on a bridge and went off as his convoy was taking him home to Islamabad from a military hospital in the neighbouring city, where he was staying since January.
There have been three previous assassination attempts on him when he was in office. He returned to Pakistan last year from self-imposed exile in London and Dubai, to contest the national elections.
His homecoming was not exactly greeted with fanfare with the regional Taliban openly declaring that he was one of their targets, according to AFP.
"Four kilograms of explosive device planted in a pipeline under a bridge exploded around 20 minutes before the former president was supposed to cross the spot," said senior police official Liaqat Niazi.
It was not immediately known if the device was timed or remote controlled.
A bomb disposal squad reached the area, which lies at the border of two populous cities, and searched for other possible hidden explosives in the vicinity.
Aasia Ishaq, Musharraf's spokesperson, said that the former general and president had reached home safely and was doing well, but added that the government was answerable for his safety.
"All extremist and terrorist forces want to kill Musharraf," Ishaq told the AP. "If anything happens to Musharraf, the government will be responsible."
Musharraf had sought permission from the court to travel abroad to visit his ailing mother in the UAE, but the request was turned down despite the direct intervention of Saudi Arabia, which was willing to sponsor safe passage for the former leader on humanitarian grounds.
The government refused to lift Musharraf's name from its exit control list, citing the numerous cases pending against him, and the fact that giving him safe passage would be against 'national interest.'
"The interior ministry has sent a written reply to Musharraf refusing to lift travel bans as there are a number of cases against him," an interior ministry official told AFP.
Musharraf had come to power in 2001 when he toppled elected prime minister Nawaz Sharif in a bloodless coup, and reigned as president until 2008.
He had permitted Sharif to leave the country thirteen years ago, by allowing him safe passage as part of a deal brokered by Saudi Arabia.