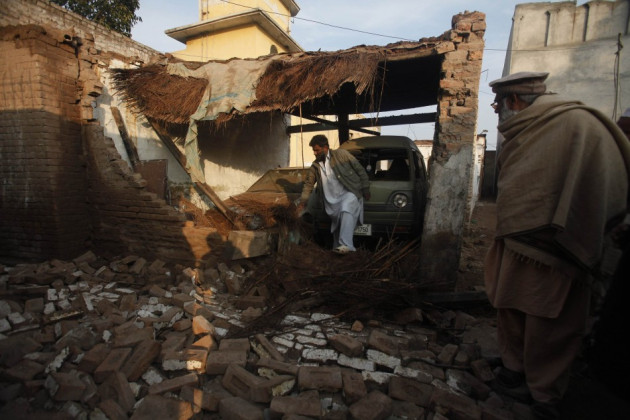 At least nine people, including five militants, have been killed and dozens of others injured in a Taliban suicide attack on the airport at Peshawar, in north-west Pakistan.
As many as five rockets were fired at the Bacha Khan International Airport in Peshawar from a nearby village. Three landed on the airfield and two hit surrounding residential areas, according to reports.
Following the rocket attack, a squad of Taliban militants armed with assault rifles and wearing suicide vests rammed an explosives-laden vehicle into a boundary wall of the airport. The militants exchanged fire with security forces for at least 30 minutes.
"No terrorist has been able to penetrate inside (the military facility)," said Group Captain Tariq Mahmood, a spokesman for the Pakistan Air Force.
"Security forces were fully alert and are in control of the situation."
Authorities sealed off access to the heavily guarded airport during the attack and suspended all flights, giving a tense time to passengers and staff. The Peshawar airport is used as a base for the Pakistan Air Force as well as for commercial flights.
The Pakistani Taliban claimed responsibility for the attack and said they had sent ten suicide bombers on the raid, double the number reported by security officials.
"Our target was the Pakistani Air Force base, not the Peshawar airport," Taliban spokesman Ehsanullah Ehsan told Reuters.
As many as four civilians were killed and at least 45 people were injured in the gun battle and rocket fire. Health officials believe that the death toll could rise.
"An emergency has been declared in the hospital and all the surgeons have been called," said Umar Ayub, chief executive of the Khyber Teaching Hospital Peshawar.
"All of them suffered bullet injuries and some of the injured are in critical condition."