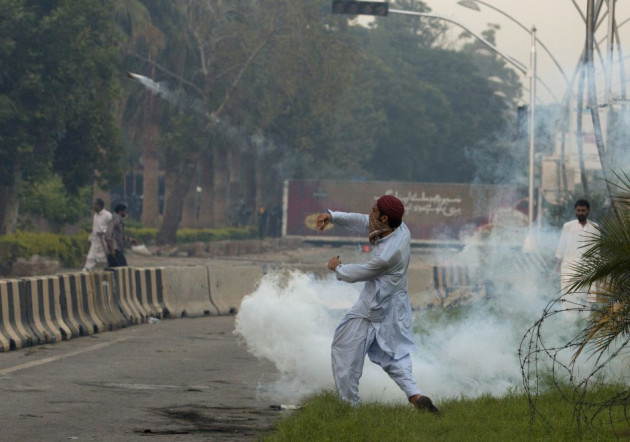 The deadliest violence occurred in the southern port city of Karachi, where 12 people were killed and 82 wounded, according to Seemi Jamali and Aftab Channar, officials at two hospitals.
Armed demonstrators among a crowd of 15,000 in that city fired on police, according to police officer Ahmad Hassan. The crowd also burned two cinemas and a bank, he said.
Five people were killed and 60 wounded in the northwestern city of Peshawar, said police official Bashir Khan. Police fired on rioters who set fire to three movie theaters and the city's chamber of commerce, and damaged shops and vehicles.
Seventeen protesters were killed and two cinemas set ablaze in the Pakistani city of Peshawar, as protests against the controversial Islamophobic film Innocence of Muslims flared once again after Friday prayers.
It is reported that the protesters targeted the Firdaus cinema with clubs and bamboo poles, setting furniture on fire before ransacking the building.
A crowd then attacked the Shama cinema, smashing windows before setting the building ablaze.
A local TV reporter, who was covering the protests, was killed when police fired on the mob which was carrying out the arson attacks.
Police also tried to use tear gas to disperse the crowds, and at least five protesters were injured.
Peshawar is situated just miles from the border with Afghanistan, and is known for its militancy. Before the riots, the authorities used shipping containers to block roads leading to the US consulate and other key buildings.
Although protesters have been urged to conduct their demonstrations in peace, local commentators predict that the holiday will only lead to further violence.
Just hours before the attack on the Peshawar cinemas, around 10,000 protesters tried to storm the US embassy in Islamabad, resulting in clashes with police which left hundreds injured.
Riot police were deployed across Pakistan, and it is reported that cell phone service has been disabled in 15 cities to prevent co-ordination of attacks.
Muslims also marched in at least a half-dozen other countries, with some burning American flags and effigies of U.S. President Barack Obama.