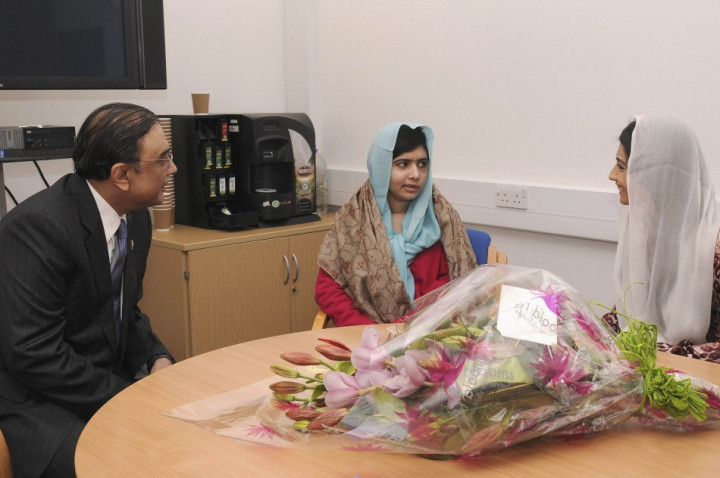 Pakistani President Asif Ali Zardari has visited teenage activist Malala Yousafzai, who has been undergoing treatment at the Queen Elizabeth Hospital in Birmingham.
The teenage girl was shot by Taliban militants in her home country while she was returning home from school. She was later airlifted to the UK hospital for further treatment.
The president hailed Malala as a "remarkable girl and a credit to Pakistan".
Zardari and his daughter Asifa Bhutto spoke to the doctors who are treating Malala and enquired about her health.
"President Zardari, accompanied by his daughter Asifa Bhutto, met with clinicians who have been treating Malala since her admission to the hospital. They were brought up to date on the 15-year-old's medical progress and her future treatment plan by (the trust's) medical director, Dr Dave Rosser," said a statement released by the University Hospitals Birmingham NHS Foundation Trust.
Zardari also had a private conversation with Malala and her family. Zardari expressed his gratitude to the hospital staff for their care of Malala.
Zardari visited Malala "to see for himself the health condition ... and also to pay tributes to her for her courage and steadfastness," according to his office.
Malala, in return, thanked the president and the goverment's efforts towards her treatment. The cost of her treatment has been borne by the Pakistani government.
Malala was targeted by Taliban militants due to her secular credentials and for championing girls' education.
She was shot in the head on 9 October, the bullet hitting her just above her left eye. Hundreds of people from around the world have called for the teenager to receive the Nobel Peace Prize.