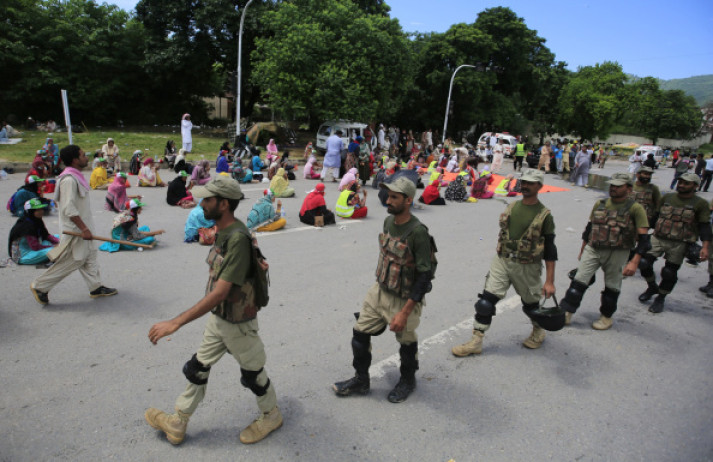 On the third day of renewed clashes between anti-government protesters and security officials in Pakistan's capital city Islamabad, the political deadlock continues while the army remains on the sidelines.
Despite nationwide allegations against PM Sharif's flawed victory during the 2013 Pakistan elections and his brother and Chief Minister of the Punjab province, Shahbaz Sharif's alleged direct involvement in the 2014 Lahore massacre, PM Sharif remains settled in his decision not to step down.
General Raheel Sharif, Chief of Pakistan Army Staff (COAS), met with Pakistan's Prime Minister Nawaz Sharif on Monday. Despite sources claiming that Sharif had requested the PM to step down, Inter-Services Public Relations (ISPR) spokesperson Asim Bajwa denied the reports.
PM-COAS meeting:News of #Army #Chief asking #PM to resign or going on leave is baseless

— AsimBajwaISPR (@AsimBajwaISPR) September 1, 2014
Meanwhile, the Supreme Court has offered to play a role in ending the impasse between PM Nawaz Sharif's PML-N government, Pakistan Tehreek-i-Insaf (PTI) and Pakistan Awami Tehreek (PAT) supporters.
As Supreme Court reflects on finding a solution; it needs to remember that all its authority depends upon Executive's Ability to implement — Moeed Pirzada (@MoeedNj) September 1, 2014
#Political crisis exists -i n large part- because Courts since Mar 2009 failed to be seen as honest brokers; Hon. Judges may remember that.!

— Moeed Pirzada (@MoeedNj) September 1, 2014
Other Developments
In other developments, several protesters seized the state broadcaster Pakistan Television Network's headquarters. The building was allegedly attacked by PTI and PAT protesters but shortly after the attack both opposition leaders denied their involvement, as the army secured the building.
PTI did not attack PTV and we totally disown this action. It damages our cause. We have always been peaceful & unarmed. — Imran Khan (@ImranKhanPTI) September 1, 2014
#PAT condemns and disowns attack on #PTV as it is contrary to our policy; we have clear instructions to our workers to remain peaceful.

— Dr Tahir-ul-Qadri (@TahirulQadri) September 1, 2014
It is alleged that PM Sharif's political party, Pakistan Muslim League (N), has unleashed its own people to carry out these attacks to defame the opposition leaders. Reports also surfaced on Sunday alleging that PTI Chairman and former cricketer, Imran Khan is being targeted in an assassination attempt.
Info received that confirmed report SP Suleman from Diplomatic Security got tasked with hitting Chairman Imran Khan. — Shireen Mazari (@ShireenMazari1) August 31, 2014
Several PTI Members of the Provincial Assembly (MPA) in the Sindh province assembly have also tendered their resignations on Monday.
Meanwhile, analysts are looking at possible ways to end the ongoing impasse, and reclaim the country that was born from a need for independence and democracy in 1947.
"If situation in Islamabad is not diffused politically, if PMLN & allies continue to deal with this as a mob, as a sect, as an administrative matter or even manage to kill a few hundred and throw them out, this violence will spread across the country, if not in three days then in three weeks," noted Journalist Moeed Pirzada.
Sharif Family cannot resolve this crisis without serious Pol-Concessions; Tricks of "Judicial Commissions" to whitewash won't help; Wake Up

— Moeed Pirzada (@MoeedNj) September 1, 2014
Parliament and SC should empower PM to order Army under 245 to clear Isbd of violent mobs. Army must obey. There will be no violence. — Najam Sethi (@najamsethi) September 1, 2014
As the Pakistan protests rage on, the actual count on the number of casualties is also falling short of accuracy.
#Just came back from PIMS; more than 300 injured; Hosp under pressure to hide figures of dead & Injured; Riot Police in Hospital Corridors#

— Moeed Pirzada (@MoeedNj) August 30, 2014
The US Factor
The US State Department spokesperson Jen Psaki has spoken out, calling for calm.
"We have been carefully monitoring the demonstrations in Islamabad. We continue to urge all sides to refrain from violence, exercise restraint, and respect the rule of law. Violence and destruction of private property and government buildings are not acceptable means of resolving political differences.
"Peaceful protest and freedom of expression are important aspects of democracy."
PTI Chairman, Imran Khan, had condemned an earlier statement made by the US State Department Deputy Spokesperson, Marie Harf, on 21 August, where she urged opposition leaders to accept the constitutionally elected chief executive of Pakistan, Nawaz Sharif.
Khan, responded within a few hours of the statement by saying, "The US State Department statement on the current political crisis constitutes interference in Pakistan's domestic affairs.
"No western democracy would accept such elections. Are we, Pakistanis, children of a lesser god? Why have you adopted a different policy for us."