A group of young Americans working as teachers in Ramallah, Palestine - 10km north of Jerusalem - are showing the world for the first time what the Israeli-Palestinian conflict looks like when viewed through the world of online dating.
Using apps like Tinder and Grindr, seven young professionals who are all in their 20s have created the "Palestinder" tumblr, which is growing in popularity on social networking sites.
The blog's creators document their experiences using the apps in the war-torn country by posting screenshots of their conversations.
The result reflects the Middle East's deep divisions in an as-yet-unseen context among the huge number of reports emerging from Gaza, and shows that even romance can't escape the area's political tensions amid attacks in Israel and the Gaza Strip.
Caitlin Kent, 26, a co-founder of the blog, told IBTimes UK the idea for the blog came one evening "checking out the Tinder scene here in Ramallah", but that she was "shocked to receive some overtly racist responses from Israeli matches once they found out that we were teaching Palestinian kids in Ramallah for the summer".
In one interaction, someone across the border in Tel Aviv, Israel, refuses to visit Ramallah because he says he doesn't want to be killed. In another, someone assumes that Kent is an Hamas supporter because she is in Palestine.
Yet in another conversation one single brings up "Romeo and Juliet" to describe the potential relationship between an Arab and a Jewish person.
What started as a forage into dating quickly became a "social experiment", Kent says, as more of her colleagues and friends at the summer camp where she works became involved in the project.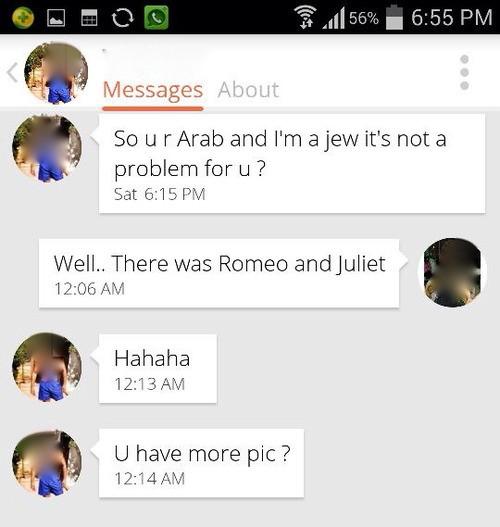 Speaking about the blog with regards to the ongoing conflict in Gaza, Kent says: "We think that it is an interesting, honest and disturbing (and sometimes funny) reflection of the pervasiveness of racist sentiments within Israel. We think that it is an especially interesting social commentary because of the current massacre going on in Gaza."
The blog's contributors believe, based on their experiences, that apps like Tinder and Grindr are a bigger phenomenon in Israel than they are in Palestine. The blog provides an unvarnished look at the unsavoury opinions of some Israelis about Palestine, but does not give an unbiased examination of the divide.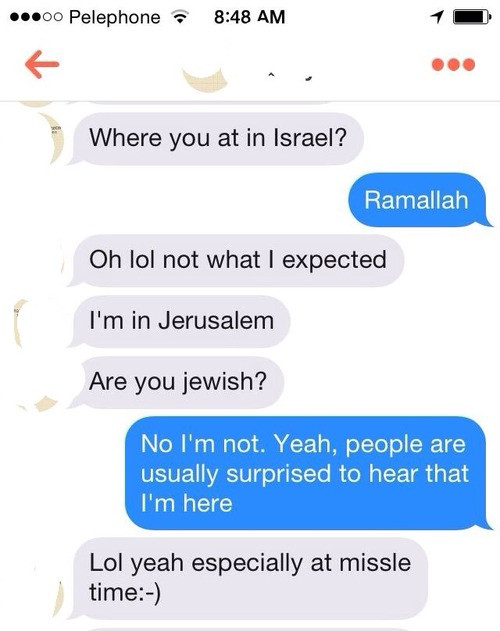 "It is important to realise that Palestinians here undergo these interactions in their everyday lives", Kent says, "It makes you stop and think."
Asked about her favourite interaction from the blog Kent told IBTimesUK: "Our favourite funny ones are those that will call us "terrorists" and then ask if we want to sleep with them.
"Our favourite 'political' one is the Grindr conversation [view the post here] because it came completely out of left field and escalated into crazy racism so quickly."