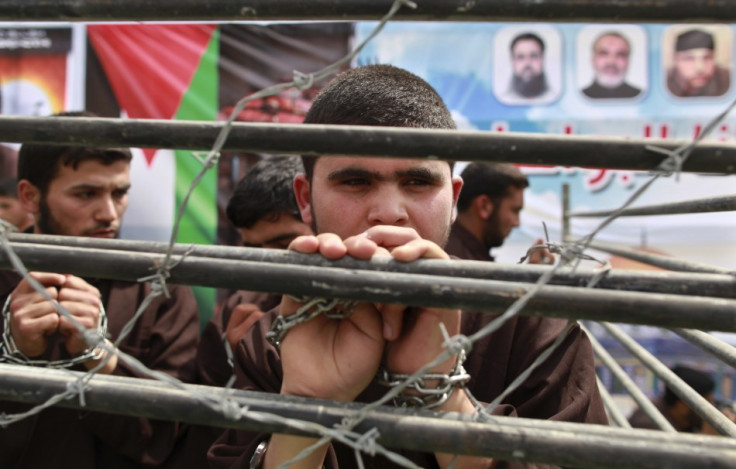 Some 1,200 Palestinian prisoners in Israeli jails have started a hunger strike, while another 2,300 are refusing food for one day to mark Prisoners' Day.
Up to 4,700 Palestinians are currently being held in Israeli prisons, with most of them detained over security offences.
Among the prisoners, 319 are being held under "administrative detention", which dates back to British rule and allows suspects to be detained indefinitely without charge. An administrative detention order is valid for a maximum period of six months, but it can be renewed indefinitely.
"In the framework of (Palestinian) Prisoners' Day, around 2,300 security prisoners said they were refusing their daily meals and around 1,200 prisoners said they were starting a hunger strike," Israel Prisons Service spokeswoman Sivan Weizman said.
Prisoner affairs minister Issa Qaraqaa had earlier told AFP that 1,600 prisoners would start a hunger strike.
Palestinians are set to take to the streets in main towns and cities as a sign of solidiary with the prisoners, including the West Bank city of Ramallah and in Gaza City.
The day will be especially memorable this year, because Israel is due to release Khader Adnan, an Islamic Jihad prisoner who has been on hunger strike for 66 days in protest over being held without charge.
A crowd is expected to gather outside Ofer military prison near Ramallah ahead of his release.
Protesters complain about the poor conditions that Palestinian prisoners are forced to endure in Israeli jails, which they say have been declining.
"Detention conditions of Palestinian prisoners held in Israelis jails are poor. It is also hard on the prisoners' families," a 21-year-old woman named Fatma, from Ramallah, told IBTimes UK.
"I have two brothers currently held in Israeli prisons. I have been turned away by guards several times and prevented from visiting them. All the guards tell me is that they cannot allow me in because 'I am not a relative'. They know I am their sister, but there is nothing I can do, " she said.
"My sister's name is Kfah, which can be translated into the word 'resistance'. She has never been allowed to visit my brothers because her name is 'suspicious'", she added.
According to official Israeli figures, there are 185 minors being detained, but the Israeli human rights organisation BTselem puts the total number of Palestinian minors in custody at 203, including 31 under the age of 16.