HSBC helped fund palm oil companies which have been blamed for wrecking large areas of endangered species' natural habitats, according to a major environmentalist NGO.
The bank was accused by the Environmental Investigation Agency (EIA) of breaking its own green rules by helping finance the destruction of rainforests in Indonesia, placing in danger orangutans and other species that live there.
In one case, more than $200m was lent to the palm oil producer Bumitama Agri, said the EIA. Deforestation by the firm in the region of Ketapang in West Kalimantan triggered a rescue mission to save orangutans earlier this year.
Four of those saved were found close to death from starvation after their natural habitat was destroyed and two more could not be found. Orangutans, which are unique to the island of Borneo, are on the brink of extinction, environmentalists warned.
In another case cited by EIA, HSBC led a consortium of banks which lent $470m to a palm oil firm called Triputra Agro. The company cleared forest for palm oil plantations in Lamandau region which was home to threatened gibbons and other vulnerable species.
HSBC's own forest policy forbids the funding of activities that destroy "high conservation value areas".
EIA forests spokesman Jago Wadley said: "HSBC's 60 million customers around the world would be surprised and appalled to learn that such a high-profile and trusted brand is profiting from large-scale deforestation even as it projects a wholesome public image of sustainability."
While HSBC told IBTimes UK that it could not comment on individual cases for confidentiality reasons, a spokeswoman defended the bank's green record.
"We were one of the first banks to introduce a forestry policy, which states that we will not finance the conversion of high conservation value forest for plantations," she said. "In the case of palm oil, we have a preference for clients who seek certification under the RSPO certification scheme."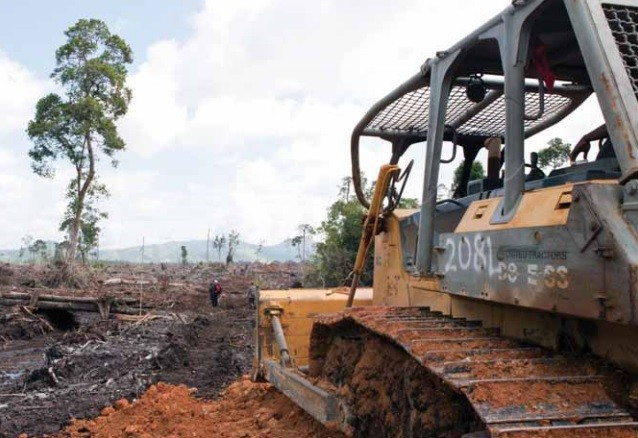 The Roundtable on Sustainable Palm Oil (RSPO) acts as the palm oil industry's oversight body and HSBC sits on the executive board. Environmentalists blasted the bank for not using its position to introduce a system of formal independent monitoring.
Critics accused the RSPO of being toothless and little more than a means for palm oil firms to "greenwash" their activities by adding a veneer of environmental credibility.
Paul Newman of the EIA told IBTimes UK: "HSBC have adopted these policies but it's outsourced responsibility. It's too easy to pass on responsibility to the RSPO. Our concern is that it is an industry body which is there to make sure the palm oil keeps flowing.
"RSPO is not up to scratch," he added. "It relies on members reporting back on whether they are following the policies. When they do have breaches of policy reported to them it takes a long time and that's time the environment does not have."
A RSPO spokeswoman denied the body was toothless.
"Membership and certification is more than merely a public commitment and this is reinforced through annual audits by independent, third-party certification bodies against the RSPO's Principles & Criteria and Code of Conduct.
"Eventually, those members which do not abide by the Code of Conduct and P&C will face the consequences of public scrutiny and public pressure."