Sheikh Khalifa bin Zayed bin Sultan Al-Nahyan owns a list of luxury property in London longer than his name. And now we know exactly what and where that property is thanks to the Panama Papers. IBTimes UK headed to Mayfair to get a feel for just how much property Al-Nahyan owns in the city.
Al-Nahyan is emir of Abu Dhabi and president of the United Arab Emirates (UAE), the oil-rich Gulf state known for the lavish spending and ostentatious displays of wealth of its ruling class. He and his family are worth billions. The Forbes rich list puts his net worth at around £16bn ($23bn). Like any self-respecting member of the financial elite, he owns property in some of London's most exclusive postcodes — an empire of more than 250 properties worth in the billions, it is estimated.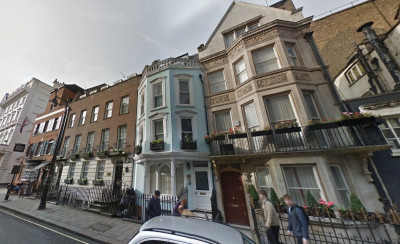 The 68-year-old was caught up in the massive leak of 11.5 million documents from the offshore services firm Mossack Fonseca, which helps its wealthy clients use tax havens. Tax avoidance is legal and Mossack Fonseca denies any wrongdoing. It believes it is the victim of hackers.
Through the Panama Papers, which were handed to the International Consortium of Investigative Journalists (ICIJ), Al-Nahyan and his family have been established as the beneficiaries of a number of companies assisted by Mossack Fonseca in the British Virgin Islands, a tax haven.
Using data from Land Registry, which has a database of foreign companies which own property in London, it is possible to cross-reference the Panama Papers and find out which are owned by Al-Nayhan through his many offshore firms.
He owns whole blocks of residential and commercial properties right in the heart of London, where property acts as a safety deposit box for the cash of the richest men and women in the world. It is regarded as a "safe haven" for capital, untroubled by political and economic turmoil and offering decent returns.
The ICIJ contacted a UK law firm representing Al-Nahyan, which told them it was "unable to help" with comments. IBTimes UK has reached out for comment from Al-Nahyan through the UAE embassy in London.
Al-Nahyan owns most of prestigious Berkeley Square, according to the Panama Papers and Land Registry records, including the garden in the middle of it all. And he owns huge chunks of the surrounding streets of Mayfair, such as Bruton Street, Bruton Place, Hill Street and Hay's Mews.
Property prices in the area average at around £2m. According to Rightmove listings, that will get you a two-bedroom flat at best in Mayfair. Walk up to Oxford Street and Al-Nahyan owns a row of retail properties, home to the likes of high street favourites Zara and BHS. On New Bond Street, his retail space houses Chanel, the high-end fashion store.
"Don't even try," said the buying agent and property expert Henry Pryor when asked to estimate the total value of Al-Nahyan's property wealth in London. "The 2016 world Monopoly championships have been won and convincingly so. His Royal Highness has the hotel on Park Lane (well a pub in Hill Street!) and as many houses as you can fit in Mayfair.
"He is easily the winner and totting up the total value would be a waste of time. Kick over the board, stamp out and console yourself with the unanswered question that every loser asks: 'But, is he happy?' Too bloody right and the only man who is happier is his agent who quietly put this portfolio together."
"You cannot put a justified value on these properties — these are vast swathes of property in some of the most expensive parts of London with untold value," said private buying agent Nicholas Jaffray of Palmstar, who emphasised that his firm does not work with Al-Nahyan or comment on its clients.
The Panama Papers offer a rare insight into who owns what in London's luxury property market. The owners of London's most expensive real estate often use offshore vehicles, such as trusts or shell companies, to avoid taxes such as stamp duty and for reasons of privacy.
Heavy foreign investment in London property fuelled the market for years, particularly in the wake of the financial crisis, when cheap sterling drew in overseas wealth. But the prime property market has weakened recently.
The UK Treasury has hiked taxes on expensive and additional properties, as well as those owned by offshore structures. The European Union referendum is causing some political uncertainty. And traditional markets for luxury London property, such as the resource-rich Gulf monarchies, are being hit by falling commodity prices, in particular oil.
From Land Registry, here is the list of properties owned by the offshore companies who, according to the Panama Papers, are ultimately owned by Al-Nahyan.
| | | | | |
| --- | --- | --- | --- | --- |
| Tenure | Address | Location | Proprietor | Country of incorporation |
| Freehold | Land on the South side of Horseferry Road | CITY OF LONDON | CLEMENTINE INVESTMENTS LIMITED | BRITISH VIRGIN ISLANDS |
| Freehold | 206-216 (even) Marylebone Road, London (NW1 6LY) | CITY OF WESTMINSTER | MARYLEBONE PROPERTIES LIMITED | BRITISH VIRGIN ISLANDS |
| Leasehold | Ground Floor, Edison House, 223-231 Old Marylebone Road, London (NW1 5TH) | CITY OF WESTMINSTER | MARYLEBONE PROPERTIES LIMITED | JERSEY |
| Freehold | Land on the west side of 68-76 Brompton Road, London | CITY OF WESTMINSTER | KNIGHTSBRIDGE COMMERCIAL ESTATES LIMITED | BRITISH VIRGIN ISLANDS |
| Freehold | Land at 68 to 76 (even) Brompton Road, London | CITY OF WESTMINSTER | KNIGHTSBRIDGE COMMERCIAL ESTATES LIMITED | BRITISH VIRGIN ISLANDS |
| Leasehold | Basement, Ground & First Floor Premises, 60 Brompton Road, London (SW3 1BW) | CITY OF WESTMINSTER | KNIGHTSBRIDGE COMMERCIAL ESTATES LIMITED | BRITISH VIRGIN ISLANDS |
| Freehold | Mistral Building, Site 600, Thames Valley Park Drive, Earley | WOKINGHAM | BARROW HILL LIMITED | BRITISH VIRGIN ISLANDS |
| Freehold | Land on the North West side of Shepherds House Lane, North Earley | WOKINGHAM | BARROW HILL LIMITED | BRITISH VIRGIN ISLANDS |
| Freehold | 29 Bruton Street and 23 Bruton Place, London | CITY OF WESTMINSTER | BERKELEY SQUARE HOLDINGS LIMITED | BRITISH VIRGIN ISLANDS |
| Freehold | 52 Charles Street and 10 Fitzmaurice Place, London (W1J 5DR) | CITY OF WESTMINSTER | BERKELEY SQUARE HOLDINGS LIMITED | BRITISH VIRGIN ISLANDS |
| Freehold | 25 Bruton Street and 31 Bruton Place, London | CITY OF WESTMINSTER | BERKELEY SQUARE HOLDINGS LIMITED | BRITISH VIRGIN ISLANDS |
| Freehold | 38 Bruton Place, London (W1J 6NX) | CITY OF WESTMINSTER | BERKELEY SQUARE HOLDINGS LIMITED | BRITISH VIRGIN ISLANDS |
| Leasehold | The East Garage, 42 Clarges Mews, London | CITY OF WESTMINSTER | BERKELEY SQUARE HOLDINGS LIMITED | BRITISH VIRGIN ISLANDS |
| Freehold | 14 and 16 Bruton Place, London | CITY OF WESTMINSTER | BERKELEY SQUARE HOLDINGS LIMITED | BRITISH VIRGIN ISLANDS |
| Freehold | 41 Berkeley Square and 1 Farm Street, London | CITY OF WESTMINSTER | BERKELEY SQUARE HOLDINGS LIMITED | BRITISH VIRGIN ISLANDS |
| Freehold | 30 Bruton Street and 21 Bruton Place, London | CITY OF WESTMINSTER | BERKELEY SQUARE HOLDINGS LIMITED | BRITISH VIRGIN ISLANDS |
| Freehold | Coach and Horses Public House at 5 Hill Street, 7, 9, 11, 13 and 15 Hill Street and 38, 39, 40, 41, 42 and 43 Hay's Mews, London | CITY OF WESTMINSTER | BERKELEY SQUARE HOLDINGS LIMITED | BRITISH VIRGIN ISLANDS |
| Freehold | 42, 43, 44, 45 and 46 Berkeley Square, 1 and 3 Hill Street and 44, 45 and 46 Hays Mews, London | CITY OF WESTMINSTER | BERKELEY SQUARE HOLDINGS LIMITED | BRITISH VIRGIN ISLANDS |
| Freehold | 27A Charles Street, 26 and 26A Hay's Mews and 21 Waverton Street, London | CITY OF WESTMINSTER | BERKELEY SQUARE HOLDINGS LIMITED | BRITISH VIRGIN ISLANDS |
| Freehold | 16 Charles Street and 14 Hay's Mews, London | CITY OF WESTMINSTER | BERKELEY SQUARE HOLDINGS LIMITED | BRITISH VIRGIN ISLANDS |
| Freehold | Berkeley Square Garden, London | CITY OF WESTMINSTER | BERKELEY SQUARE HOLDINGS LIMITED | BRITISH VIRGIN ISLANDS |
| Freehold | 27 Bruton Street, London (W1J 6QN) | CITY OF WESTMINSTER | BERKELEY SQUARE HOLDINGS LIMITED | BRITISH VIRGIN ISLANDS |
| Freehold | 26 Bruton Street and 29 Bruton Place, London (W1J 6QL) | CITY OF WESTMINSTER | BERKELEY SQUARE HOLDINGS LIMITED | BRITISH VIRGIN ISLANDS |
| Freehold | 24 Bruton Street and 33 Bruton Place, London | CITY OF WESTMINSTER | BERKELEY SQUARE HOLDINGS LIMITED | BRITISH VIRGIN ISLANDS |
| Freehold | 23A Bruton Street and 35 Bruton Place, London | CITY OF WESTMINSTER | BERKELEY SQUARE HOLDINGS LIMITED | BRITISH VIRGIN ISLANDS |
| Freehold | 23 Bruton Street and 37 Bruton Place, London | CITY OF WESTMINSTER | BERKELEY SQUARE HOLDINGS LIMITED | BRITISH VIRGIN ISLANDS |
| Freehold | 20 Bruton Place, London | CITY OF WESTMINSTER | BERKELEY SQUARE HOLDINGS LIMITED | BRITISH VIRGIN ISLANDS |
| Freehold | 22 Bruton Place, London | CITY OF WESTMINSTER | BERKELEY SQUARE HOLDINGS LIMITED | BRITISH VIRGIN ISLANDS |
| Freehold | 24 Bruton Place, London (W1J 6NE) | CITY OF WESTMINSTER | BERKELEY SQUARE HOLDINGS LIMITED | BRITISH VIRGIN ISLANDS |
| Freehold | 26 Bruton Place, London (W1J 6NG) | CITY OF WESTMINSTER | BERKELEY SQUARE HOLDINGS LIMITED | BRITISH VIRGIN ISLANDS |
| Freehold | 28 Bruton Place, London (W1J 6NH) | CITY OF WESTMINSTER | BERKELEY SQUARE HOLDINGS LIMITED | BRITISH VIRGIN ISLANDS |
| Freehold | The Guinea Public House, 30 Bruton Place, London (W1J 6NL) | CITY OF WESTMINSTER | BERKELEY SQUARE HOLDINGS LIMITED | BRITISH VIRGIN ISLANDS |
| Freehold | 32 Bruton Place, London (W1J 6NW) | CITY OF WESTMINSTER | BERKELEY SQUARE HOLDINGS LIMITED | BRITISH VIRGIN ISLANDS |
| Freehold | 34 Bruton Place, London (W1J 6NR) | CITY OF WESTMINSTER | BERKELEY SQUARE HOLDINGS LIMITED | BRITISH VIRGIN ISLANDS |
| Freehold | 40 Bruton Place, London (W1J 6NZ) | CITY OF WESTMINSTER | BERKELEY SQUARE HOLDINGS LIMITED | BRITISH VIRGIN ISLANDS |
| Freehold | 42 Bruton Place, London (W1J 6PA) | CITY OF WESTMINSTER | BERKELEY SQUARE HOLDINGS LIMITED | BRITISH VIRGIN ISLANDS |
| Freehold | 44 Bruton Place, London (W1J 6PB) | CITY OF WESTMINSTER | BERKELEY SQUARE HOLDINGS LIMITED | BRITISH VIRGIN ISLANDS |
| Freehold | 46 Bruton Place, London (W1J 6PD) | CITY OF WESTMINSTER | BERKELEY SQUARE HOLDINGS LIMITED | BRITISH VIRGIN ISLANDS |
| Freehold | 28 Bruton Street and 25 Bruton Place, London | CITY OF WESTMINSTER | BERKELEY SQUARE HOLDINGS LIMITED | BRITISH VIRGIN ISLANDS |
| Freehold | 11 Bruton Place, London (W1J 6LT) | CITY OF WESTMINSTER | BERKELEY SQUARE HOLDINGS LIMITED | BRITISH VIRGIN ISLANDS |
| Freehold | 31 Bruton Street and 19 Bruton Place, London | CITY OF WESTMINSTER | BERKELEY SQUARE HOLDINGS LIMITED | BRITISH VIRGIN ISLANDS |
| Freehold | 32 Bruton Street and 17 and 17A Bruton Place, London | CITY OF WESTMINSTER | BERKELEY SQUARE HOLDINGS LIMITED | BRITISH VIRGIN ISLANDS |
| Freehold | 33 Bruton Street and 15 Bruton Place, London | CITY OF WESTMINSTER | BERKELEY SQUARE HOLDINGS LIMITED | BRITISH VIRGIN ISLANDS |
| Freehold | 35 Bruton Street, London (W1J 6QY) | CITY OF WESTMINSTER | BERKELEY SQUARE HOLDINGS LIMITED | BRITISH VIRGIN ISLANDS |
| Freehold | 36 Bruton Street, London (W1J 6QZ) | CITY OF WESTMINSTER | BERKELEY SQUARE HOLDINGS LIMITED | BRITISH VIRGIN ISLANDS |
| Freehold | 1 to 9 (odd) Bruton Place, London | CITY OF WESTMINSTER | BERKELEY SQUARE HOLDINGS LIMITED | BRITISH VIRGIN ISLANDS |
| Freehold | 34 Bruton Street and 13 Bruton Place, London | CITY OF WESTMINSTER | BERKELEY SQUARE HOLDINGS LIMITED | BRITISH VIRGIN ISLANDS |
| Freehold | 48, 49, 50, 51, 52 and 52A Berkeley Square, 1, 2, 3 and 4 Charles Street, The Running Footman Public House, 5 Charles Street, and 48, 49, 50 and 51 Hay's Mews, London | CITY OF WESTMINSTER | BERKELEY SQUARE HOLDINGS LIMITED | BRITISH VIRGIN ISLANDS |
| Freehold | 23 Berkeley Square, London (W1J 6AP) | CITY OF WESTMINSTER | BERKELEY SQUARE HOLDINGS LIMITED | BRITISH VIRGIN ISLANDS |
| Leasehold | Parts of the basement and ground floor and mezzenine floors of 48 Berkeley Square and 48 Hays Mews, London (W1J 5AY) | CITY OF WESTMINSTER | BERKELEY SQUARE HOLDINGS LIMITED | BRITISH VIRGIN ISLANDS |
| Freehold | 40 to 50 (all) Berkeley Street, 38 to 40 (all) and 50 Stratton Street, 8 and 10 Mayfair Place, London | CITY OF WESTMINSTER | BERKELEY SQUARE HOLDINGS LIMITED | BRITISH VIRGIN ISLANDS |
| Freehold | 24 Berkeley Square, London (W1J 6EJ) | CITY OF WESTMINSTER | BERKELEY SQUARE HOLDINGS LIMITED | BRITISH VIRGIN ISLANDS |
| Freehold | 20, 21 and 22 Berkeley Square, London (W1J 6EQ) | CITY OF WESTMINSTER | BERKELEY SQUARE HOLDINGS LIMITED | BRITISH VIRGIN ISLANDS |
| Leasehold | Garage, 7 Hays Mews, London | CITY OF WESTMINSTER | BERKELEY SQUARE HOLDINGS LIMITED | BRITISH VIRGIN ISLANDS |
| Leasehold | Garage, 19 Hays Mews, London | CITY OF WESTMINSTER | BERKELEY SQUARE HOLDINGS LIMITED | BRITISH VIRGIN ISLANDS |
| Leasehold | Garage, 1 Hays Mews, London | CITY OF WESTMINSTER | BERKELEY SQUARE HOLDINGS LIMITED | BRITISH VIRGIN ISLANDS |
| Freehold | 18 Hays Mews, London (W1J 5PY) | CITY OF WESTMINSTER | BERKELEY SQUARE HOLDINGS LIMITED | BRITISH VIRGIN ISLANDS |
| Freehold | 20, 22, 24, 26 and 30 Hill Street, 7A Chesterfield Hill and 18A Farm Street, London | CITY OF WESTMINSTER | BERKELEY SQUARE HOLDINGS LIMITED | BRITISH VIRGIN ISLANDS |
| Freehold | 29 and 31 Hill Street, London W1J 5LR | CITY OF WESTMINSTER | BERKELEY SQUARE HOLDINGS LIMITED | BRITISH VIRGIN ISLANDS |
| Freehold | 37 Hill Street, London (W1J 5LX) | CITY OF WESTMINSTER | BERKELEY SQUARE HOLDINGS LIMITED | BRITISH VIRGIN ISLANDS |
| Freehold | 17 to 27 (odd)(excluding 19) Hill Street and 32, 33, 34, 34A, 35, and 37 Hay's Mews, London | CITY OF WESTMINSTER | BERKELEY SQUARE HOLDINGS LIMITED | BRITISH VIRGIN ISLANDS |
| Freehold | 22 Bruton Street and 39 Bruton Place, London | CITY OF WESTMINSTER | BERKELEY SQUARE HOLDINGS LIMITED | BRITISH VIRGIN ISLANDS |
| Freehold | 21 Bruton Street, London (W1J 6QD) | CITY OF WESTMINSTER | BERKELEY SQUARE HOLDINGS LIMITED | BRITISH VIRGIN ISLANDS |
| Freehold | 4 Hill Street, (W1X 7FU) | CITY OF WESTMINSTER | BERKELEY SQUARE HOLDINGS LIMITED | BRITISH VIRGIN ISLANDS |
| Freehold | 6 Hill Street, 6 and 6A Farm Street | CITY OF WESTMINSTER | BERKELEY SQUARE HOLDINGS LIMITED | BRITISH VIRGIN ISLANDS |
| Freehold | 18 Bruton Place, London (W1J 6LY) | CITY OF WESTMINSTER | BERKELEY SQUARE HOLDINGS LIMITED | BRITISH VIRGIN ISLANDS |
| Freehold | Berkeley Square House, and 1, 2 and 3 Berkeley Square, London | CITY OF WESTMINSTER | BERKELEY SQUARE HOLDINGS LIMITED | BRITISH VIRGIN ISLANDS |
| Freehold | 1, 2 and 5 Charles Street, 48, 49, 50, 51, and 52 Berkeley Square and 48 to 51 Hay's Mews, London | CITY OF WESTMINSTER | BERKELEY SQUARE HOLDINGS LIMITED | BRITISH VIRGIN ISLANDS |
| Freehold | 51 Charles Street, London (W1J 5ER) | CITY OF WESTMINSTER | BERKELEY SQUARE HOLDINGS LIMITED | BRITISH VIRGIN ISLANDS |
| Freehold | 50 Stratton Street, London (W1J 8LL) | CITY OF WESTMINSTER | BERKELEY SQUARE HOLDINGS LIMITED | BRITISH VIRGIN ISLANDS |
| Freehold | Berger House, 36-38 Berkeley Square, London (W1J 5AE) | CITY OF WESTMINSTER | BERKELEY SQUARE PROPERTIES LIMITED | BRITISH VIRGIN ISLANDS |
| Leasehold | 24 BERKELEY SQUARE, LONDON W1J 6EJ | CITY OF WESTMINSTER | BERKELEY SQUARE PROPERTIES LIMITED | BRITISH VIRGIN ISLANDS |
| Leasehold | 36 and 38 Berkeley Square, London (W1J 5AE) | CITY OF WESTMINSTER | BERKELEY SQUARE PROPERTIES LIMITED | BRITISH VIRGIN ISLANDS |
| Freehold | 19 and 21 Knightsbridge, London and the carriage drive on the north side thereof | CITY OF WESTMINSTER | BRUTON PROPERTIES LIMITED | BRITISH VIRGIN ISLANDS |
| Freehold | 11 Bruton Street and 25 Bruton Lane, London | CITY OF WESTMINSTER | BRUTON PROPERTIES LIMITED | BRITISH VIRGIN ISLANDS |
| Leasehold | the Ground, Lower Ground and Basement premises being two Retail Units, Horseferry Road, the Medical Centre, 20 Page Street, the Nursery, 22 Page Street and parking spaces LG134, LG135, LG136 and LG137, 8 Dean Ryle Street, London more particularly described in the lease | CITY OF WESTMINSTER | CLEMENTINE COMMERCIAL PROPERTIES LIMITED | BRITISH VIRGIN ISLANDS |
| Freehold | 8 De Vere Gardens, London (W8 5AE) | KENSINGTON AND CHELSEA | DE VERE ESTATES LIMITED | BRITISH VIRGIN ISLANDS |
| Freehold | Kensington Palace Mansions and Kensington Palace Thistle Hotel, 2-8 De Vere Gardens, London (W8 5AF) | KENSINGTON AND CHELSEA | DE VERE ESTATES LIMITED | BRITISH VIRGIN ISLANDS |
| Freehold | Kensington Park Hotel, 16 De Vere Gardens, London (W8 5AG) | KENSINGTON AND CHELSEA | DE VERE ESTATES LIMITED | BRITISH VIRGIN ISLANDS |
| Freehold | 243 Knightsbridge, London (SW7 1DN) | CITY OF WESTMINSTER | FORESTWAY PROPERTIES LIMITED | BRITISH VIRGIN ISLANDS |
| Freehold | 1 Ham Ridings, Richmond (TW10 5HJ) | RICHMOND UPON THAMES | HAM RIDINGS LIMITED | BRITISH VIRGIN ISLANDS |
| Freehold | 8 Ham Ridings, Richmond (TW10 5HJ) | RICHMOND UPON THAMES | HAM RIDINGS LIMITED | BRITISH VIRGIN ISLANDS |
| Freehold | 6 Ham Ridings, Richmond, (TW10 5HJ) | RICHMOND UPON THAMES | HAM RIDINGS LIMITED | BRITISH VIRGIN ISLANDS |
| Freehold | 4 Ham Ridings, Richmond (TW10 5HJ) | RICHMOND UPON THAMES | HAM RIDINGS LIMITED | BRITISH VIRGIN ISLANDS |
| Leasehold | Suite 8, 3 Hans Crescent, London, (SW1X 0LN) | KENSINGTON AND CHELSEA | HANS CRESCENT ESTATES LIMITED | BRITISH VIRGIN ISLANDS |
| Leasehold | Flat 3, 3 Hans Crescent, London (SW1X 0LN) | KENSINGTON AND CHELSEA | HANS CRESCENT ESTATES LIMITED | BRITISH VIRGIN ISLANDS |
| Leasehold | Suite 5, 3 Hans Crescent, London, (SW1X 0LN) | KENSINGTON AND CHELSEA | HANS CRESCENT ESTATES LIMITED | BRITISH VIRGIN ISLANDS |
| Freehold | Caltex House, Knightsbridge Green and 58 Brompton Road, London | CITY OF WESTMINSTER | KNIGHTSBRIDGE GREEN LIMITED | BRITISH VIRGIN ISLANDS |
| Leasehold | 154 New Bond Street, London | CITY OF WESTMINSTER | MAYFAIR COMMERCIAL LIMITED | BRITISH VIRGIN ISLANDS |
| Leasehold | 155 New Bond Street, London (W1S 2UA) | CITY OF WESTMINSTER | MAYFAIR COMMERCIAL LIMITED | BRITISH VIRGIN ISLANDS |
| Leasehold | 2 Bruton Street, London | CITY OF WESTMINSTER | MAYFAIR COMMERCIAL LIMITED | BRITISH VIRGIN ISLANDS |
| Leasehold | 157 New Bond Street, London | CITY OF WESTMINSTER | MAYFAIR COMMERCIAL LIMITED | BRITISH VIRGIN ISLANDS |
| Leasehold | 3 Bruton Street, London | CITY OF WESTMINSTER | MAYFAIR COMMERCIAL LIMITED | BRITISH VIRGIN ISLANDS |
| Freehold | land on the North-West side of Curzon Street, the North-East side of Clarges Street, and the South-East side of Clarges Mews | CITY OF WESTMINSTER | MAYFAIR COMMERCIAL LIMITED | BRITISH VIRGIN ISLANDS |
| Leasehold | 1 Curzon Street, London (W1J 5HD) | CITY OF WESTMINSTER | MAYFAIR COMMERCIAL LIMITED | BRITISH VIRGIN ISLANDS |
| Leasehold | FIFTH FLOOR, TIME & LIFE BUILDING, 1-4 BRUTON STREET, LONDON W1J 6TL | CITY OF WESTMINSTER | MAYFAIR COMMERCIAL LIMITED | BRITISH VIRGIN ISLANDS |
| Leasehold | 156 New Bond Street, London (W1J 6PT) | CITY OF WESTMINSTER | MAYFAIR COMMERCIAL LIMITED | BRITISH VIRGIN ISLANDS |
| Leasehold | 153 New Bond Street and 1 Bruton Street, London | CITY OF WESTMINSTER | MAYFAIR COMMERCIAL LIMITED | BRITISH VIRGIN ISLANDS |
| Freehold | 34 Dover Street and 16 Berkeley Street, London | CITY OF WESTMINSTER | MAYFAIR COMMERCIAL LIMITED | BRITISH VIRGIN ISLANDS |
| Freehold | 242 to 274 (even) Oxford Street, 9 Holles Street, 28, 31 to 33 and 37 Cavendish Square, 16 and 17 John Prince's Street including the London County Council School, London | CITY OF WESTMINSTER | OXFORD & CITY HOLDINGS LIMITED | BRITISH VIRGIN ISLANDS |
| Leasehold | basement and parts of the ground and mezzanine floors known as 28 Cavendish Square, London (W1G 0DB) | CITY OF WESTMINSTER | OXFORD & CITY HOLDINGS LIMITED | BRITISH VIRGIN ISLANDS |
| Leasehold | 3, 5, 6, 11, 15, 28, 33, 43 and 55 Knightsbridge Court, 12 Sloane Street, London (SW1X 9LJ) | KENSINGTON AND CHELSEA | SLOANE STREET COMMERCIAL PROPERTIES LIMITED | BRITISH VIRGIN ISLANDS |
| Freehold | Knightsbridge Court, 9 to 16 Sloane Street and 9 to 23 (odd numbers) Pavilion Road, London | KENSINGTON AND CHELSEA | SLOANE STREET COMMERCIAL PROPERTIES LIMITED | BRITISH VIRGIN ISLANDS |
| Freehold | 8 Sloane Street and 7 Pavilion Road, London | KENSINGTON AND CHELSEA | SLOANE STREET COMMERCIAL PROPERTIES LIMITED | BRITISH VIRGIN ISLANDS |
| Freehold | Basement Vaults, 6a and, 6b Sloane Street and 1 Basil Street, London | KENSINGTON AND CHELSEA | SLOANE STREET RESIDENTIAL PROPERTIES LIMITED | BRITISH VIRGIN ISLANDS |