A report showing the extreme levels of violence towards women and children in Papua New Guinea has found one woman was beaten with her own baby by her husband.
The ChildFund Australia report said a woman named Margaret was told by her husband that he planned to find a group of boys to gang-rape her and threatened her with murder.
When her child was one month old, he tried to punch her in the face but missed and hit the baby instead. Another time, he picked up the baby and used him as a weapon against Margaret.
The report said programmes are urgently needed to protect women and children, and to work with men to change social norms that allow "brutal and widespread violence to occur".
Studies suggest that violence takes place in at least two-thirds of homes in Papua New Guinea, but researchers say this is a low estimation. ChildFund researchers found most of the women interviewed had experienced violence in their homes.
Another woman, Helen Michael, was attacked randomly in the street when she went to get food for her husband. During the attack, her bottom lip was bitten off and she now wears a plaster to cover the scar. Her attacker was taken to the police station but was released, with officers saying there was not enough evidence to charge him.
Police failings were also highlighted by Amanda, who was physically and sexually assaulted for six years by her husband. His case never went to trial because police said there was inadequate medical evidence.
The report said: "In PNG women are raped, killed and maimed on a shocking scale. The brutality is severe, often involving bush knives, axes, burning, spearing and even biting.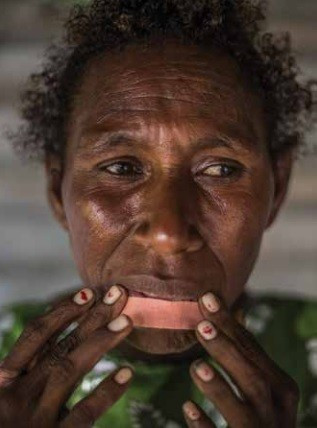 "Papua New Guinea does not have enough national programmes that work with men in order to change prevailing social norms that allow widespread and obvious violence. With limited social services available in PNG, women often feel compelled to stay with violent men as they are the breadwinners."
Explaining why so few men are charged with violent crimes, it added: "Women need medical certificates to prosecute violent partners in court but cannot always afford or access them."
The report found children were often the victims of violence. It said children below the age of 16 represent half the people seeking medical help after being raped at the Port Moresby's main women's shelter. One on four of these is under 12, while one in 10 is younger than eight, it said.
"[He] got the little girl, bashed her up and then lifted her up, face down, and threw her on the concrete," one woman said about her husband's attack on their daughter.
ChildFund says it is working to develop programmes to support women and children through prevention, education and protection.
Nigel Spence, CEO of ChildFund Australia, says: "This research reminds us that violence against women inevitably hurts children too. For many women, it is their children who are the driving force behind their determination to escape, as their children's lives are also in danger.
"ChildFund is rolling out a new program in Papua New Guinea, which not only provides services to protect women and children, but will also work with men to change attitudes so that violence is seen as unacceptable.
"Our report shows that the attitudes and behaviours of some men have already positively shifted, so it is important that we partner with communities and strengthen local services to really bring about significant, long-term change."