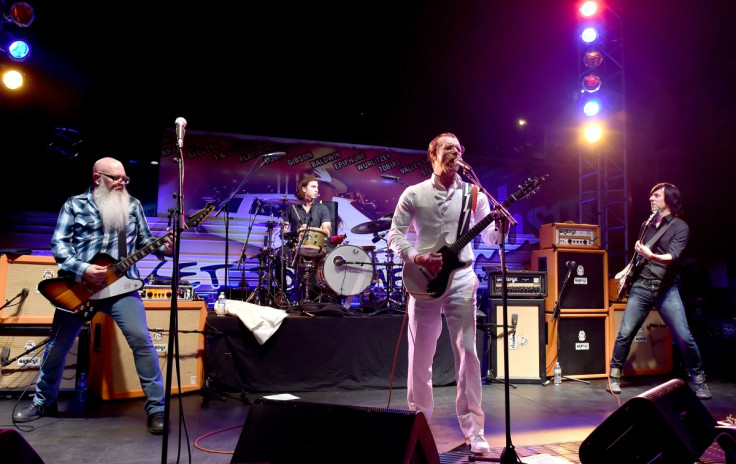 Fans of the US rock band Eagles Of Death Metal have launched a petition to send one of the group's songs to number one on the UK charts. The band were performing at the Bataclan concert hall in Paris on 13 November 2015 when gunmen stormed the venue killing many concertgoers.
Band members, including Jesse Hughes and Josh Homme, are confirmed to be safe but their merchandise manager Nick Alexander was one of the 129 people who died in coordinated terror attacks in the French capital. A Facebook group, titled: Eagles Of Death Metal For No.1, has now been set up to propel the band's cover of Duran Duran's Save A Prayer to the top of the charts on 20 November.
The Facebook group, which currently has more than 6,000 likes, stated: "We thought it would be a nice gesture to put their brilliant version of Save A Prayer to the UK No.1 spot as a show of support to the band and all of those affected." The petition has been met with some criticism from those who question whether the royalties from sales of the song would directly benefit those affected by the attacks.
One critic posted on the Facebook group: "How much of the royalties from that download are you donating to the families of those who lost their loved ones in Paris?" In a statement posted in their 'About Me' section, organisers of the petition stated: "Royalties we assume would go to Duran Duran as they wrote the song but that's not the point of this campaign. This is not for profit or financial gain, just to make a strong statement."
The Eagles Of Death Metal cover appears to be racing up the charts and is currently at number four on the Amazon songs chart in the UK and is sitting at number 37 on the iTunes chart. Encouraging the public to support the campaign, the Facebook petition states: "The No.1 would show that us in the UK cares deeply. If you're not interested, don't get involved."
Confirming the death of merchandise manager Alexander, the Briton's family said in a statement: "It is with huge sorrow that we can confirm that our beloved Nick lost his life at the Bataclan last night. Nick was not just our brother, son and uncle; he was everyone's best friend – generous, funny and fiercely loyal.
"Nick died doing the job he loved and we take great comfort in knowing how much he was cherished by his friends around the world. Thank you for your thoughts and respect for our family at this difficult time. Peace and light." As a result of the attacks, bands including U2 and Foo Fighters are said to have cancelled upcoming shows in Paris.