A Briton, who is among 129 people who were killed in the Paris terror attacks, has been named. He has been identified as Nick Alexander, 36, from Colchester, a merchandiser working with the band Eagles of Death Metal, who were playing at the Bataclan concert hall at the time of the shooting.
Friends and family of Mr Alexander had posted messages on social media appealing for information about his whereabouts. "Nick Alexander from Colchester was working at the Bataclan last night. Has anyone heard from him? #ParisAttacks #PorteOuverte #prayforparis" the message read.
As the Home Office confirmed his death, his friend Helen Wilson, 49, an American expat who was wounded in the attack revealed that he died in front of her. Speaking from her hospital bed to The Telegraph, Miss Wilson, who runs catering company Rock en Bol in Paris, recounted the details of the shooting as it happened.
She explained that the first shots were fired at 9.45pm as the death metal band performed on stage.
"We heard a couple of noises outside and people started running into the club. We didn't know what was going on," said Miss Wilson. "Then maybe five, six guys came in with machine guns and shotguns and just started shooting people. It was mayhem. When anyone started running they would shoot them down. So we got down on the floor. I was afraid whenever I heard a step behind me... they machine-gunned everybody."
Miss Wilson revealed how the gunmen deliberately targeted concert-goers in wheelchairs in the front rows of the concert hall reserved for wheel-chair users. She described how Mr. Alexander succumbed to the terrorists bullets during their bloody rampage.
"Nick was in front of me when we were lying on the ground and somebody moved and they just turned round and started shooting us. Nick was shot in front of me. His back was to me and I couldn't see what happened and I tried to keep him talking and then I tried to give him mouth-to-mouth resuscitation and they [the gunmen] were just sort of in the shadows and they would shoot if anyone said anything.
"Then he couldn't breathe any more and I held him in my arms and told him I loved him. He was the love of my life."
Miss Wilson was shot in both thighs and was treated at the scene before being taken to Saint-Antoine hospital in Paris.
Following confirmation of his tragic death Mr. Alexander's family have issued an emotional statement describing him as "everyone's best friend."
The statement reads: "It is with huge sorrow that we can confirm that our beloved Nick lost his life at the Bataclan concert hall. Nick was not just our brother, son and uncle, he was everyone's best friend -generous, funny and fiercely loyal. Nick died doing the job he loved and we take great comfort in knowing how much he was cherished by his friends around the world. Peace and light."
At least 352 people were injured, 99 of whom are in a critical condition, in the coordinated attack on six major sites in Paris targeted by Islamic State terrorists.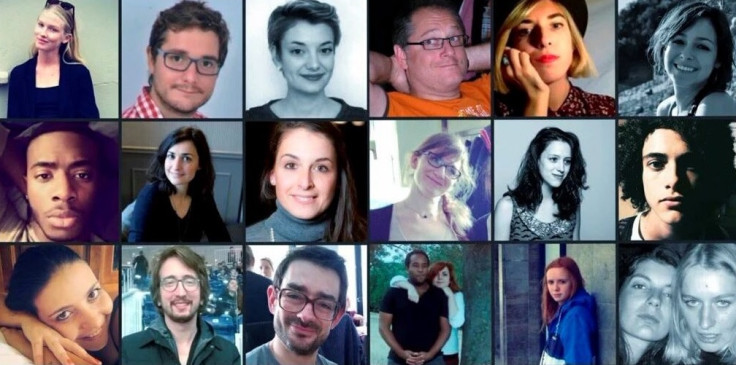 As the death toll continues to rise British PM David Cameron earlier said "we must be prepared for a number of British casualties" from the atrocities. The Prime Minister has condemned the "brutal and callous murderers" behind the attacks in the French capital on Friday.
The UK has responded to the tragedy in France with tributes across the country. The Union flag has been lowered to half-mast over Downing St with the French Tricolore alongside as a "clear demonstration of our solidarity with the French".
Iconic buildings including The London Eye, the National Gallery, Tower Bridge and Wembley were lit up in red, white and blue of the Tricolore as a symbol of solidarity, while Paris remains submerged in darkness as the citizens of France come to terms with the tragedy that has befallen them.
The Foreign Office says those concerned about British nationals caught up in the attacks should call 020 7008 0000.
Ireland's Department of Foreign Affairs says anyone concerned about Irish nationals caught up in the attacks should call 01 408 2000.