Paris attacks: England and France fans face delays around Wembley Stadium after security beefed up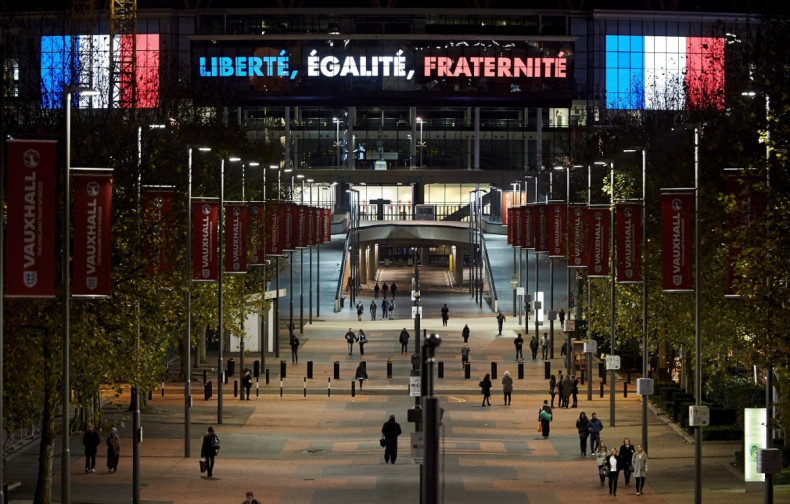 Football fans face delays getting into Wembley Stadium on 17 November after extra security measures were put in place for the England v France international friendly in the wake of the Paris attacks that left at least 129 people dead.
The match had been in jeopardy after the terrorist attack but French football officials confirmed at the weekend that it would go ahead.
There will be an increased armed police presence outside the ground as well as more officers at tube stations. Fans will also be checked by security as they enter the ground and have been urged to arrive early ahead of the 8pm kick off to take part in tributes to those killed in the attacks.
In his pre-match press conference, England manager Roy Hodgson encouraged fans to sing the Marseillaise in a show of support for the French, while FA chief executive Martin Glenn said the match had added significance "to show that terrorism can't win".
"The match starts at five to eight, not eight o'clock. We want to demonstrate our solidarity, our country's solidarity with France," Glenn said.
He said the FA had been advised on the security and that the game only went ahead with the approval of France.
"UK authorities and government needed to make sure it was safe and the French wanted to play," he said. "They wanted to go ahead, for mainly symbolic reasons, and we were very happy to meet their concerns.
"I just want to reconfirm that the security apparatus and the people that advise us say that there is no material risk so the game should go ahead. We would like fans to turn up earlier and we will do more checks."
Deputy Assistant Commissioner Peter Terry, from Specialist Crime and Operations:
"Ahead of tomorrow's England vs. France match we have carried out a full and thorough review of our policing operation, in light of the tragic events in Paris last Friday.
"This match will obviously be a more sombre event than usual as we all reflect the senseless loss of life that Paris suffered.
"However, we want everyone coming along to the match to know that our officers will be out there in increased numbers, to keep them safe. This will include extra, highly visible, armed officers who will be patrolling around Wembley Stadium.
"Our focus is the public's safety and security. I would stress that our plans are purely precautionary and not as a result of any specific intelligence.
"I would ask ticket holders who are travelling to Wembley to plan their journey and help us out by arriving at the venue early. We will be supporting Wembley Stadium Limited with additional entry searches, which may take longer than people are used to.
"If you see anything suspicious or that causes you concern please tell a police officer, or member of security staff.
"We will be working closely with colleagues from British Transport Police who will have a presence throughout the transport network.
"Across London additional patrols have been carried out at key locations to provide reassurance, and those will continue. Sadly, London is no stranger to terrorism and the men and women of the Met Police will continue to do all we can to keep our Capital safe."