What was supposed to be a routine friendly at Wembley now holds much more significance. England host France on Tuesday 17 November with the game itself now secondary to the series of tributes being planned to the victims of the Paris terror attacks.
When is kick-off
Kick-off is scheduled for 8pm (GMT) on Tuesday evening but the Football Association has urged supporters to assume it is at 7.55pm, to ensure those in attendance are ready to "demonstrate solidary, our country's solidarity with France," Football Association chief executive Martin Glenn told a press conference on Monday.
Tributes
After the series of coordinated attacks that ravaged Paris and left 129 dead and hundreds more injured, the France Football Federation (FFF) opted against cancelling Tuesday's match. Those arriving at Wembley will be greeted by the sight of the stadium's famous arch lit up in the colours of the French tricolour with the country's motto of "Liberté, égalité, fraternité" adorning the front of the stadium. As part of a series of tributes as part of five minutes of solidarity, those in attendance will be urged to join in during the French national anthem La Marseillaise, with the lyrics to be displayed on big screens around the stadium.
During that time, fans will hold up thousands of cards in forming a mosaic of the French tricolore while there is also expected to be a tribute from the players led by captain Wayne Rooney.
FA chief Glenn has encouraged fans to arrive at the stadium early due to the heightened security presence around the stadium, but also to ensure a fitting tribute in made by everyone.
"The match really starts at 7.55pm not 8pm, because we want to spend five minutes on very important ways of demonstrating solidarity with the French," Glenn said. "We will all be trying to sing La Marseillaise, we will be putting the words up. I think that will be a powerful thing and we will be doing the tricolore effect with seat posters, so things will be different.
"The people that advise us are absolutely clear there's no material change in risk. But we would like fans to turn up a bit earlier because we are going to do a few more checks."
Tottenham Hotspur goalkeeper and France captain Hugo Lloris: "We have been touched by messages of support, particularly those from London and England. I know the English well, I know they will help us commemorate and do the right thing in terms of supporting us and we are grateful for all of the messages of support.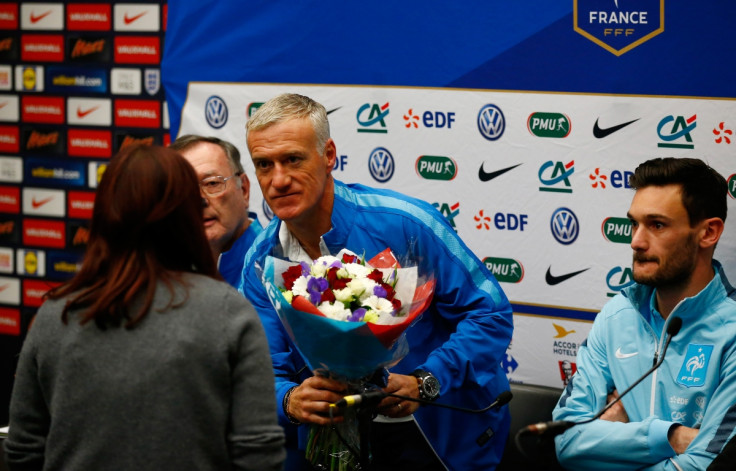 "We have to try to escape during the game, and of course there will be lot of emotion from us, the players, But I say, we are in London, we are in England. We know the people are very respectful and will be a great moment of solidarity."
France manager Didier Deschamps said: "We're here now to take the field, to represent our country – probably with more pride than normal.
"We are here are as a staff, management and players. We are representing our country in a poignant moment. I'm grateful for the solidarity and messages of support we have received from people in England and around the world. It will be a night full of emotion, but we have a duty to go out and perform, give a good account and represent France."