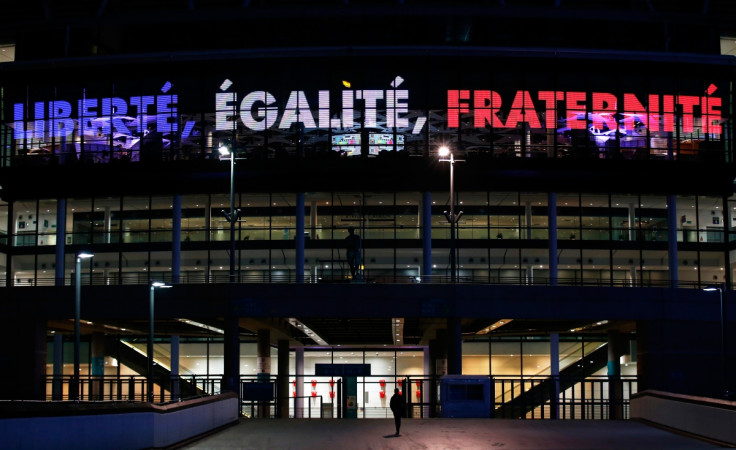 Prince William will attend the friendly match between England and France on 17 November at Wembley Stadium as a "mark of solidarity" with the people of France following the deadly terrorist attacks in Paris on 13 November. A royal source confirmed that Kate Middleton's husband will attend the game as FA president despite not initially planning on attending.
The 33-year-old Duke of Cambridge will attend as anti-terror chiefs announced that armed police will be deployed at the game, The Daily Mail reported. Stadiums around the world have increased security following the brutal attacks, which included bombings at the Stade de France.
The 90,000-seat Wembley was lit up in red, white and blue in honour of France on 16 November, with the national motto of "Liberté, Egalité and Fraternité" emblazoned on its side. Fans of the friendly match were warned to arrive early before the evening game as they will have to undergo extra security checks before reaching their seats.
In a major switch of tactics, British special forces have been ordered by Whitehall to "take swift action to neutralise terrorists, rather than to cordon and negotiate" with them in the event of a Paris-style attack. According to the Daily Mail, thousands of troops are on standby to be deployed if jihadist gunman launch a similar assault in the UK.
Deputy assistant commander Peter Terry, from the Metropolitan Police's Specialist Crime and Operations Command, told reporters: "We've reassessed what security we think we will need for tomorrow night's occasion, which will of course be a fairly sombre occasion especially considering who we're playing." He added that no specific threat had been made against the match, The Guardian reported.
"London and Paris are sister cities. They are extremely diverse and dynamic cities. They will not be cowed by the threat of terrorism," Terry said. "It's extremely important we show support to the people of Paris, people we have the greatest sympathy with at this moment in time, and show people we will go about our daily business."
Prince William was not the only British royal to show his respects for the victims of the brutal attack, which left at least 129 dead and 352 injured. On the night of the attack, Clarence House posted Prince Charles's sentiments on Twitter, sharing, "From Australia, The Prince of Wales is sending President Hollande a message of profound sympathy and solidarity with the people of Paris."