The final catwalk steps of the long fashion month have now been taken and fashion editors got their first good night's sleep last night but now the big task begins, what are the trends for next season? What will AW16 bring to us and who were the catwalk game changers for the past month?
After the commercialism of London and the eccentricity of Milan as well as the big shift to 'see now, buy now' approach to runway shows, Paris took a rather surprisingly artistic approach to fashion week. As well as the theatrics of Commes Des Garcons and the all inclusive high street show at H&M it was the overarching knowledge that we will still have to wait until next season to get our hands on the Parisian goods that made the textures, cuts and accessories that little bit more alluring.
Starting from the end of the line, we looked to the five hard hitters of Paris being Louis Vuitton, Chanel, Miu Miu, Valentino and Saint Laurent and look at the trends emerging from the fashion establishment.
Louis Vuitton - Ghesquière's latest offering for the heritage house was the perfect combination of new concepts and old habits. The show had all the trademarks of what made Balenciaga great during the Ghesquière years with futuristic, chunky leather boots paired with wipe-clean leather and expert mix of cropped, oversized and sculptural designs. The layering of so many textures and prints was exciting but retained the style of the house with classic accessory designs revamped with scarf handles and chunky hardware.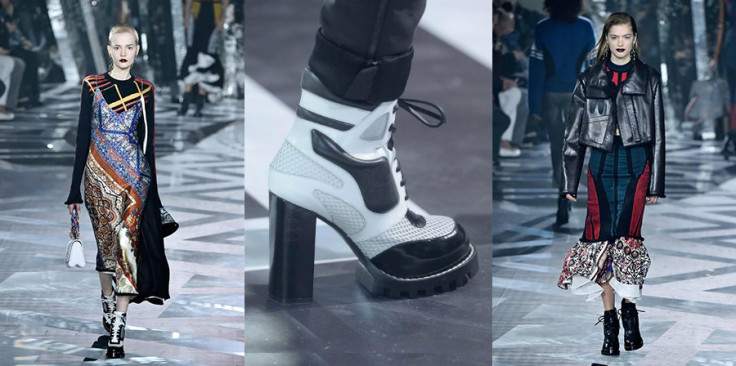 Miu Miu - Carol King has just announced that she is performing in Hyde Park this summer and in our dreams, she and everyone in the crowd will be wearing AW16 Miu Miu. A rich tapestry of texture, colours and print, updating the paisley and floral designs of the seventies to a melange of maxi skirts and twinsets that transformed into military tailoring trimmed with furs and studs. Katie Grand's eccentric styling worked a treat and made the nattiest of cardigans into a new season must-have. Special mention must go to the stellar line up of models with everyone from Joan Smalls to Gigi Hadid and Kendall Jenner to Lara Stone taking their turn.
Saint Laurent - Hedi Slimane has been on thin fashion ice of late with his antics at one of Paris' most beloved houses but his last minute addition to the AW16 schedule was a true homage to the bygone days of Yves' clan. A very limited guest list, prompt start time and traditional roll caller to describe each look took those invited back to a time before Instagram, live bands and hoards of bloggers. The designs may have been on the extreme side of the eighties with scarlet fur jackets with boisterous shoulders, thinner than skintight sequinned jumpsuits and metallic mini dresses worthy of Gem and the Hollograms but they were very Saint Laurent. Expertly styled with red lips and slick back hair, they had all the charm and sophistication demanded by Saint Laurent fans.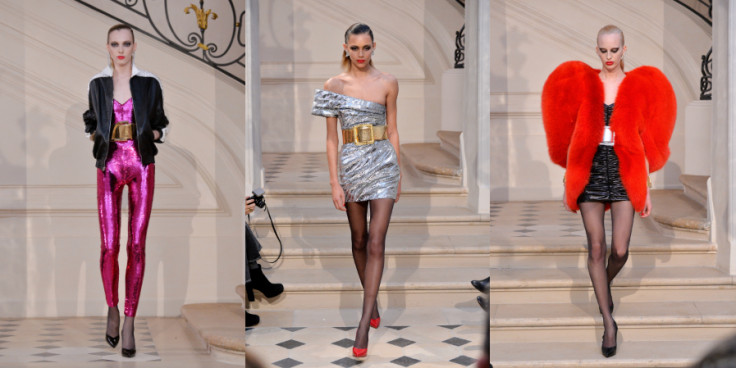 Chanel - Like Saint Laurent, Karl Lagerfeld decided to recreate the classic fashion atelier for the set of his latest collection for the luxurious French fashion house and the collection certainly followed suit with an array of decadent layered knitted creations, ranging from classic signature bouclé tweed to butter-soft silk cashmere scarves. The Chanel girl likes to wrap up and the quilted coats we saw across the fashion weeks were reimagined in true Lagerfeld style with bejewelled woven trim and a neat silk satin waist drawstring and matching scarf, of course.
Somehow each year, Karl manages to retain the extremely refined style of Coco but always managing to inject a touch of youth and rebellion, be this in the matching of metallic gauntlet gloves with loose knits or oversized aviators with lipstick red bouclé.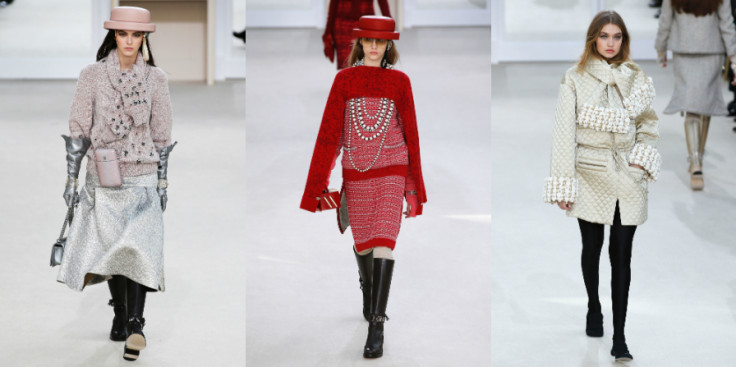 Valentino - Dance was the primary inspiration for creative directors Maria Grazia Chiuri and Pierpaolo Piccioli and whilst the feather light tulle, diaphanous sheer fabrics and embroidery were no surprise for the Valentino fan, these expected details were woven into a collection that focused far more on outerwear for a change. Thick patent trenches and wool felt capes were styled with hardy leather panelled skirts, cashmere turtlenecks and heavy biker boots, made for the ballet dancer who had to walk to work. These dark colours and textures melted into the classic detailed maxis and frills but there was a welcome new addition to the family in the form of rich velvet evening dresses in mustard and emerald hues.