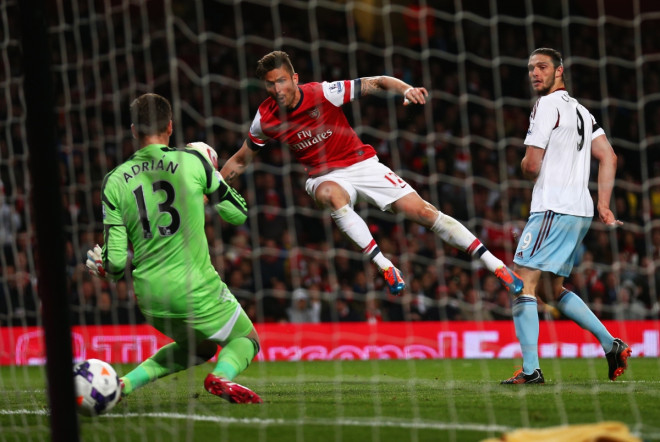 Former Arsenal midfielder Paul Merson says Olivier Giroud's goal against West Ham United reminded him of Dennis Bergkamp in his pomp.
Giroud held off Winston Reid before controlling Thomas Vermaelen's lofted pass and slamming past Hammers stopper Adrian to give the Gunners a crucial lead on the night.
Lukas Podolski scored twice either side of the break to give Arsenal a 3-1 win over West Ham which keeps alive their Champions League hopes but Giroud's strike was the abiding memory of the game.
And Merson told Sky Sports: "This [Olivier Giroud goal] is Dennis Bergkamp like, there's no question about that, you see Dennis do this loads of times for Arsenal.
"The strength in the way Reid bumps into him and then he has the composure to bring it down, that's world class.
"If Lionel Messi did that tomorrow in the final, we'd be going mad. I mean that is absolutely phenomenal."
Bergkamp achieved legendary status during 11 years at Arsenal and earlier this season had a statue unveiled of him outside the Emirates Stadium.
The goal was just Giroud's second in the league since February and ended a troubling personal run to inspire a win which could galvanise Arsenal's pursuit of the fourth Champions League place.
"It was a perfect first touch," said Wenger.
"You need that if you want to score the goal. What I like is that he used his upper body first to make some space and, despite that, he managed to have a great first touch and after that he finished well.
"Olivier is a great guy with a great mentality,' said Wenger of the France forward whose personal life put him under media scrutiny earlier in the season.
"He has gone through a difficult period, as you know, and I think it affected his game for a while and his confidence. You could see that he was refreshed tonight and that he was up for it.
"At half-time he came in, he was very, very down because he missed a great chance in the first half, but he responded very well in the second half because he's mentally a strong guy."