PayPal Here is a Chip & PIN card reader which connects to your iPhone or Android device via Bluetooth to manage transactions between credit or debit cards and your PayPal account.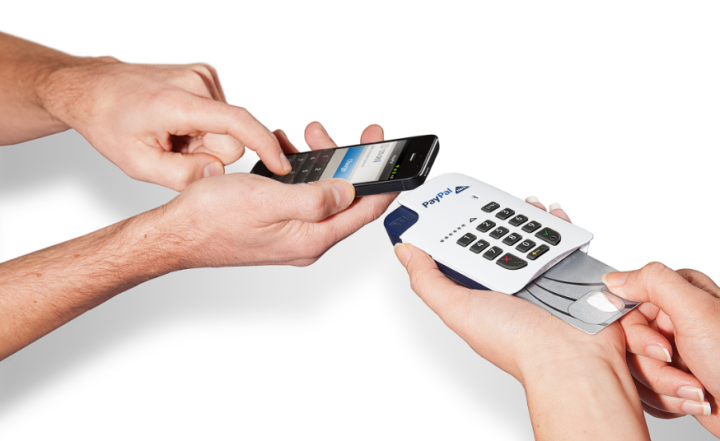 The Here service was launched in the US almost a year ago as a card reader that could be attached to an iPhone's headphone jack. The new device is suited to European markets, where the Chip & PIN payment method is more common than swiping a credit or debit card's magnetic strip.
The card reader will be made available to select UK businesses over the coming months, ahead of a general release in the summer.
Here is aimed at small businesses and individuals, such as market traders, who do not have a conventional Chip & PIN machine, and who want to take payments in more ways than just cash.
Priced at £95, the Here card reader has no contract or ongoing subscription; instead, PayPal charges a flat fee of 2.95 percent plus 20p per transaction. This fee is slightly less than the 3.4 percent plus 20p the company charges for transactions up to £1,500 per month through its website.
For example, if someone gave you £100 through Here, PayPal would take a cut of £3.15, leaving you with £96.85. Of course, a bank transfer would be free, but this isn't usually convenient when purchasing goods in a shop or from a market stall.
Application
A free application for iOS and Android is used to pair your phone to the card reader over Bluetooth and acts as a simple interface for arranging payments, keeping track of them, and issuing receipts and invoices, which can be sent by email.
PayPal promises "world class security and fraud protection", as well as a live customer support system which can be contacted 24 hours a day; there's a call-for-help button in the Here application, which puts you straight through to PayPal if there's a problem with your transaction.
Company president David Marcus said: "We aimed to create [a] game-changing device for businesses in the UK and other nations where Chip & PIN payments are standard. The result is a beautiful device that offers a strong and secure solution for businesses and, as importantly, their customers."
Mark Thomas, of PayPal Here UK launch partner Greedy Goat ice cream, said: "Cash is king in the market, but people run out of cash very quickly, and we often lose sales because customers can't face the long weekend wait at the ATM
"PayPal Here is the perfect solution for us, as it gives our customers the chance to pay by card, backed by the reassurance of the PayPal name on the machine."
Competition
There are already several similar devices on the market including iZettle and Square. Square however is only available in the US at the moment, but does have the backing of Visa, and is making strong inroads into the market there.
The other major player in the market is UK-based Powa which is offering a white-label product to the finance and retail market, as well as offering back-end systems to allow for the roll out of payment infrastructures quickly.
Powa has signed deals with a South African bank as well as a Portugeue telco, but has yet to announce a deal in the UK, however founder Dan Wagner told IBTimes UK last month it was in talks with several UK companies and expected an announcement "soon."