A pay slip from an Islamic State (Isis) fighter has revealed a pittance monthly wage of $50 (£34) is being paid to jihadists although it shows that bonuses are given for wives, children and disturbingly, sex slaves.
In January this year Daesh (Isis) cut their fighters' wages in half due to "exceptional circumstances" as the self-proclaimed caliphate has lost roughly 22% of its territory since the height of its powers in 2014. This loss has diminished their tax base as the number of people they preside over has shrunk from nine million to six million.
With their oil refineries and banks repeatedly targeted by the US-led Operation Inherent Resolve, Isis faces a cash shortage. Despite the cut in income they try to win their fighters' loyalty with a string of bonus payments in addition to their paltry monthly base wage.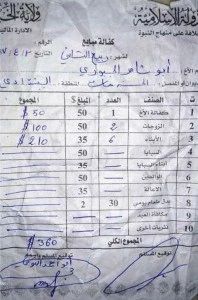 A pay slip belonging to a man identified as al-Jiburi, showed in addition to his base monthly salary of $50 (£34), he got $50 bonuses for each of his two wives and another $35 (£24) for each of his six children. His monthly wage came to $360 (£248), but also revealed in the document was a bonus that any sex slave would entitle him to an additional $50 per month.
The salary details and other documents showing life under Isis were obtained by Aymenn Jawad al-Tamimi, from the Combating Terrorism Centre (CTC). He said: "The documentary evidence confirms the current coalition approach has brought about significant losses for the Islamic State and put it under pressure on multiple fronts."
The pay slip and other documents were from Syrian and Iraqi towns retaken by the Iraqi and Syrian militaries or Kurdish insurgents. Other documents appear to be attempts to address shortages of fuel and electricity.
Earlier in April, reports emerged that jihadis' commanders in Isis had ordered the killing of their own injured fighters so they could remove their organs and sell them on the black market.
Despite signs their power is beginning to collapse, al-Tamimi warns that Isis may still last a while, saying: "Some defectors are claiming that the Islamic State's end is imminent, but I don't see that. It's just not the case."