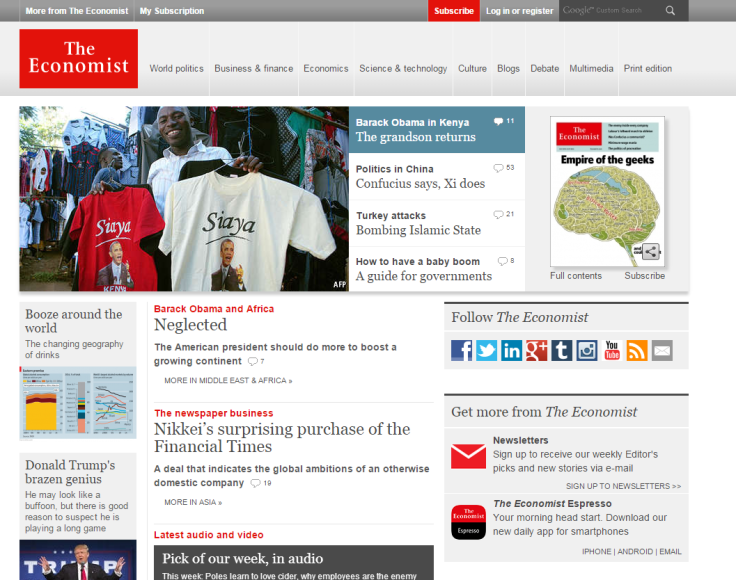 UK publishing and education company Pearson is locked in negotiations to sell its 50% stake in the Economist Group, which publishes weekly news magazine The Economist.
The talks over a potential sale are with other group shareholders, according to a source close to the situation.
The news comes in the same week that Pearson agreed to sell the Financial Times, Britain's leading financial news publication, to Japan's Nikkei Group for £844m in order to focus on its education business.
Pearson's stake in The Economist is thought to be worth around £400m, according to reports in the Financial Times which cites two people close to the situation.
A company statement said: "Pearson confirms it is in discussions with The Economist Group Board and trustees regarding the potential sale of our 50% share in the Group." It also said there is "no certainty that this process will lead to a transaction".
Pearson acquired its stake in The Economist in 1957, alongside its purchase of the salmon-coloured daily paper.
The Financial Times reports that any sale would have to be approved by the four trustees of the Economist Group – ex-Conservative MP and health secretary Baroness Virginia Bottomley, John Major's former press secretary Lord O'Donnell, deputy chairman of the consultancy G3 Tim Clark, and Bryan Sanderson, an emeritus governor of the London School of Economics.
The other shareholders of the Economist Group include the Cadbury, Rothschild and Agnelli families, the British asset management company Schroder, and former and current staff.