Pennsylvania man charged with rape and murder of girlfriend's 4-year-old son
Prosecutors may call for Keith Jordan Lambing to face death penalty for murder of Bentley Miller.
WARNING: Graphic content
A Pennsylvania man has been charged with the rape and murder of his girlfriend's 4-year-old son, WTAE reports.
Keith Jordan Lambing, 20, is alleged to have inflicted a catalogue of sickening assaults on Bentley Miller, who was left in his care on 21 March by the boy's mother, Mackenzie Peters.
Lambing was with the child at Motel 8, where he had been staying with Peters, when he called his mother, Kristen Herold, saying the boy needed medical attention.
When she arrived at the motel, Herold put Bentley in her car and drove to his father's home. However, when he became unresponsive she pulled over and called 911.
Bentley was taken by ambulance to a local hospital, where he later died as a result of his injuries.
Describing his injuries as "horrible" the district attorney confirmed the boy died as a result of severe blood loss due to forced sodomy. He also suffered a burn on his left hand and bruises on his head and in the pelvic region and extremities.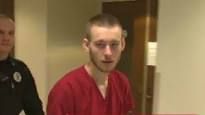 Prosecutors are calling for Keith Jordan Lambing, 20 to face the death penalty for the rape and murder of Bentley Miller, 4
WTAE
Lambing had attempted to evade arrest, hiding in the attic of an abandoned home with his mother, the Pittsburgh Post-Gazette reports.
Bentley's mother, who was at work at the time of the incident, is not suspected of any involvement in her son's death.
Herold is facing charges of child endangerment and hindering apprehension.
Lambing has been charged with homicide, rape of a child, indecent assault of a child, and involuntary deviate sexual intercourse in connection with the incident.
Prosecutors are reportedly considering calling for Lambing to face the death penalty.