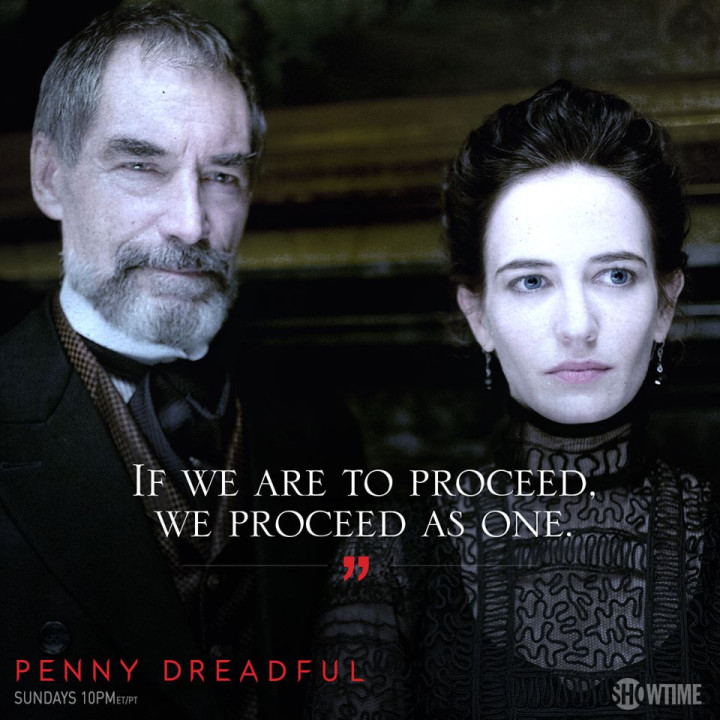 Showtime network's Penny Dreadful will successfully complete its first season with the finale 'Grand Guignol' slated to air on Sunday, June 29.
THE FOLLOWING IS A SPOILER. IF YOU HAVE NOT YET WATCHED THE FINAL EPISODE OF THE SERIES, PLEASE CLICK AWAY NOW.
In episode 7 'Possession,' Vanessa was again taken by the dark creature and just when Sir Malcolm finds it difficult to rescue her from being possessed, Victor Frankenstein and Ethan manage to save her on time.
The episode shows Vanessa returning to her normal self. She also gets information about Sir Malcolm's daughter Mina's whereabouts.
The location is Theatre du Grand Guignol, a giant puppet theatre, which also happens to be the title of the finale of Showtime's critically acclaimed horror thriller.
A brief synopsis of the Penny Dreadful finale episode via the Epoch Times reads:
"Season 1 ends with Vanessa and Sir Malcolm facing their worst nightmares."
Sir Malcolm has begun his journey with other hunters to find his daughter and anything happening to Mina will be the biggest nightmare for him.
As far as Vanessa is concerned, she may be out of the soul mate searching creature's possession, but there are chances it will come back for her.
It will be interesting to see how the popular characters cope with their individual problems and how the story carries forward for a second season.
Understanding its popularity, Showtime has renewed the horror series for a second season.
"I think because it's a genre show, it has done incredibly well in all the new ways you can watch, beyond any show we'd had before," Showtime Networks president David Nevins said in a statement.