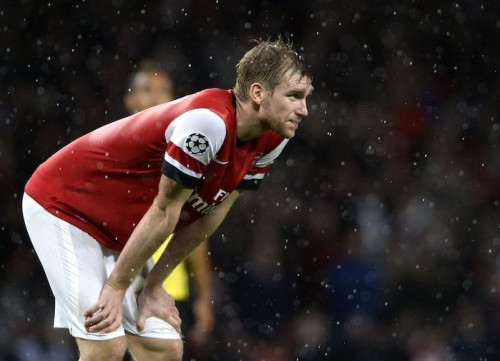 Per Mertesacker has expressed his astonishment at Arsenal's brilliant record with himself and Laurent Koscielny in defence with the Gunners winning their last 21 games out of 31 since their 2-1 lost to Manchester United at home almost two years back.
Mertesacker is not satisfied with just records and wants to back the same with silverware, which is a long time coming.
The Gunners have been on a barren run for the last eight years, winning their last trophy in 2005, where they defeated Manchester United in the finals of the FA Cup on penalties.
With Arsenal currently top of the league, this is their chance to make it count and win their first title in almost a decade.
The Gunners secured their 11th clean sheet of the season against Crystal Palace, whom they defeated 2-0 and extended their lead to two points over Chelsea and Manchester City after the Blues relegated City to their first home loss in the league this season.
Arsenal will face Liverpool and Manchester United within four days of each other in the upcoming fixtures where a haul of six points will give them a much needed boost ahead of another gruesome schedule in March.
"It [the statistic] sounds not real for me. When I first heard it, it sounded very weird. It's a good statistic but we have to build on that. I think we have shown a lot of people who criticised us a lot over the last two-and-a-half years that we know each other much better now and that we complement each other well, so it looks like that's a good partnership [with Koscielny]," Mertesacker told www.arsenal.com.
"But I wouldn't say that's only us or the two of us. I think when I speak about our centre backs I want to include always Thomas Vermaelen because he's our captain and he's always vital for everyone. He's aware of situations, he gives us a boost, he came back from a heavy injury," he concluded.