Periscope has now brought its live streaming experience to the Apple TV. The new app comes just after the arrival of the new Apple TV model that the company unveiled in early October.
Unlike its counterparts on mobile devices, Periscope on Apple TV delivers an instant live broadcast experience. This means that you just need to open Periscope app on your Apple TV to start watching live broadcasts from around the world, without requiring any account signup. Besides, you can send hearts to the broadcasters and read comments from other viewers.
The app additionally provides you the option to skip to the next broadcast, in case you don't want to watch the first broadcast on your television screen. Likewise, you can also make hearts and comments hidden or visible on the screen. Each time a broadcast ends, the app will take you right to the next place to offer you a list of fresh content through its Couch mode feature.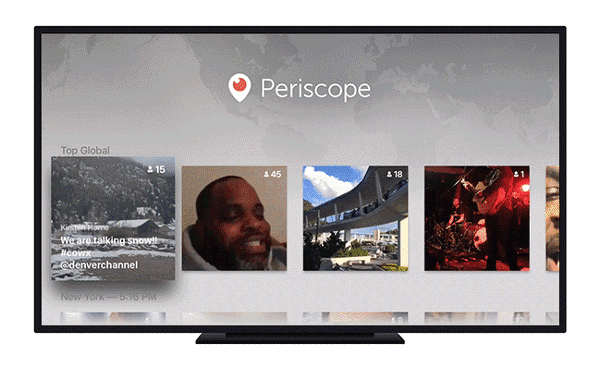 Periscope's interface on Apple TV is a bit different from that on mobile devices as there are large-size thumbnails. You can watch any of the top global broadcasts, while place-wise broadcasts are available just below the top list. Further, broadcasts which are shot in landscape come in full-screen view to provide a detailed view on your TV.
"We see tons of possibilities and are really looking forward to hearing about how people use this first iteration. Giving everyone a way to access and share their personal feeds really excites us, as does the prospect of creating new ways to interact with the broadcaster. And of course, we're always working to bring new types of content and new forms of discovery to the platform," Periscope wrote in a blog post.
Twitter-owned Periscope already has a user base of 10 million that would be increased further with its debut on Apple TV. Moreover, this appears to be a competitive move against Meerkat that is currently available only on Android and iOS.