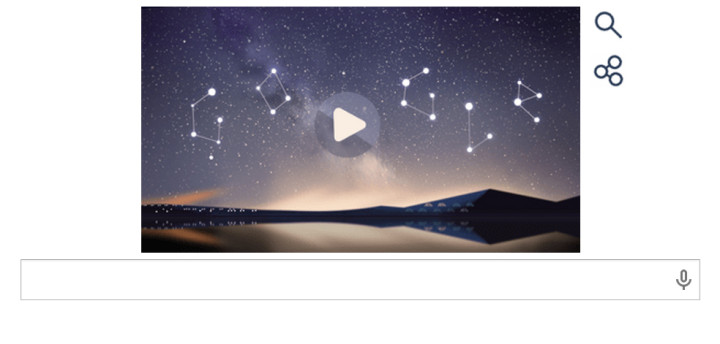 Google has decided to highlight the famous annual Perseid meteor shower with an animated Google Doodle on its homepage.
The Google Doodle shows stars connected by constellation lines that spell out Google. When clicked, the Doodle plays a special animated video showing meteors racing across the sky amid a variety of stunning backdrops.
The Perseids are a meteor shower that has been seen since ancient times, first discovered in 36AD by the Chinese, although 19th century astronomer Adolphe Quetelet is credited with noticing the annual shower.
The meteor shower is caused by a stream of debris known as the "Perseid Cloud" which are ejected from the Swift-Tuttle comet as it circles the sun once every 133 years at the speed of almost 134,000 mph, leaving behind a brilliant debris trail of dust grains that become fireballs streaking across the sky.
The Perseid meteor shower is visible every year from mid-July, however the peak of the meteor activity usually occurs between 9 to 14 August.
Due to the fact that 10 August is the date that Saint Lawrence of Rome was martyred, some Catholics refer to the Perseids as the "tears of St Lawrence".
This year, the full moon fell on Sunday, and you will be able to see meteors in the sky until Wednesday night, although tonight is the best night to watch out for them
For the best locations in the UK to watch the meteor shower, click here. For people living outside the UK, go here and enter your location to get times and places.
Unfortunately the phenomenon of a supermoon, where the moon appears 30% brighter and 14% bigger that other full moons, means that it will be harder to see meteors due to the lunar glare.
If you're really keen to see the Perseids, it would be best to get away from cities or large towns and turn your back to the moon in order to see the shower.