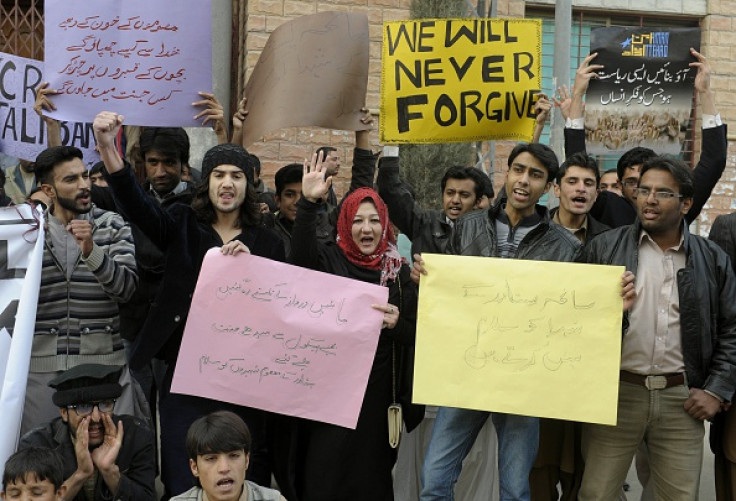 After ending a six-year moratorium on death penalty in terrorism-related cases, Pakistan on Sunday (21 December) executed four more militants following the Taliban attack on Peshawar's Army Public school.
"Ghulam Sarwar, Rashid Tipu, Zubair Ahmed and Akhlaq Ahmed have been hanged for an assassination attempt on General Pervez Musharraf, Pakistan's former leader," a prison official in the eastern city of Faisalabad told AFP News.
The state-run Associated Press of Pakistan (APP) confirmed the news saying: "The brutal killers were clearly frightened and sought mercy from the jail staff on their cruel, inhuman and un-Islamic act.
"They admitted that their brutal and inhuman acts had finally brought them to the gallows."
Following the uplifting of the death penalty ban by Pakistan's Prime Minister Nawaz Sharif, the Chief of Army Staff signed death warrants for six convicts.
Two out of the six convicts were executed on Friday (19 December).
"Two militants, Aqeel - alias Doctor Usman - and Arshad Mehmood have been hanged in Faisalabad jail," Shuja Khanzada, Home Minister of the central Punjab province told AFP News.
Several human rights groups, including the United Nations condemned Pakistan's decision to reinstate the executions.
UN human rights spokesman Rupert Colville said: "To its great credit, Pakistan has maintained a de facto moratorium on the death penalty since 2008.
"We urge the government not to succumb to widespread calls for revenge, not least because those at most risk of execution in the coming days are people convicted of different crimes."
Pakistan's decision to uplift the death penalty ban came in the aftermath of the horrifying Peshawar school massacre as political and military leaders across the nation vowed to end homegrown terrorism.
"These were my children. This is my loss. This is the nation's loss," Sharif said following the Peshawar school massacre that claimed 141 lives, including 132 children.