Apple's voice-activated personal assistant Siri has caused outrage in the U.S. after it was found the application offers information on "anti-choice crisis pregnancy centers" instead of abortion clinics.
A petition with almost 20,000 signatures has been sent to Apple CEO Tim Cook demanding that the company fix the problem as it seems that the location results supplied by Yelp are in some way manipulated.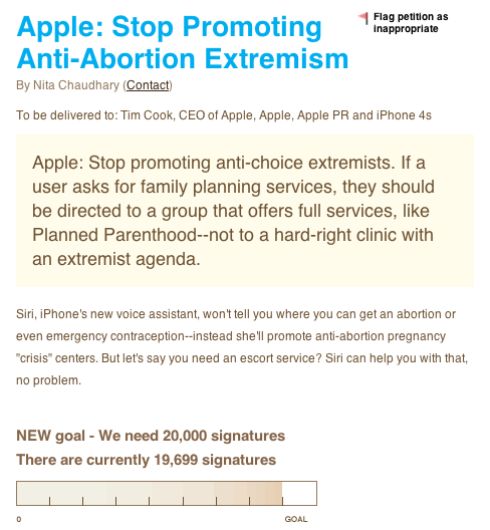 "Siri...won't tell you where you can get an abortion or even emergency contraception - instead she'll promote anti-abortion pregnancy 'crisis' centers. But let's say you need an escort service? Siri can help you with that, no problem," the petition reads.
It remains to be seen if Apple and Yelp are actually at fault, as Google has come under similar criticism in the past for providing offensive and inappropriate images and Web sites simply because of how its search algorithm works.
"Many of these centers can be harmful and do nothing to help women locate the services they requested from Siri," pro-choice group NARAL said in a statement.
Apple, based in Cupertino, Calif., promised to fix the glitch, which it says is not intentional. The computer iPhone manufacturer told the New York Times: "Our customers want to use Siri to find out all types of information, and while it can find a lot, it doesn't always find what you want. These are not intentional omissions meant to offend anyone. It simply means that as we bring Siri from beta to a final product, we find places where we can do better, and we will in the coming weeks."
As Apple says, it is worth remembering that Siri is still a beta product on one device - the iPhone 4S - so users cannot expect search results to be perfect every time.