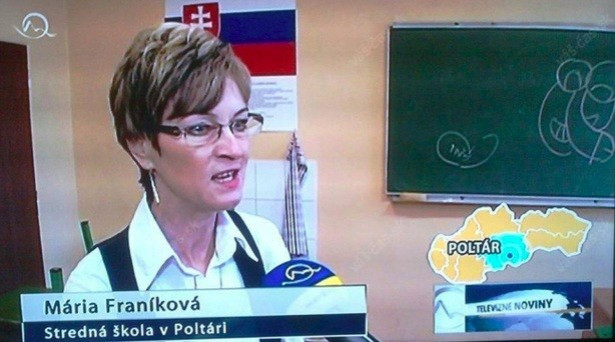 A student prank left a school and a TV firm red faced when a cartoon penis was beamed around the country during a serious interview.
A reporter for a national broadcaster in Slovakia was grilling a teacher about a looming strike threatening to disrupt the country.
As a result, viewers got an eyeful of a grinning, mad-eyed face with a floppy phallus for a nose distracting them from what teacher Mária Franíková was saying.
But it seems nobody from the school in the southern city of Poltar or in the production crew bothered to check the location for signs of pupil mischief.
The gaffe caused quite a stir in the eastern European country, with switchboards at the TV firm lighting up with viewers ringing in to complain.
One viewer, Miroslav Spak, said: 'There are enough d***heads in politics without creating more.'