Pharrell Williams has three extra reasons to be Happy after becoming a father to triplets. The Hidden Figures producer's wife, Helen Lasichanh, secretly gave birth earlier in January but a rep for the married couple has now revealed the happy news.
Four months after announcing she was expecting their second child, Williams and Lasichanh welcomed three new additions to their growing family on 17 January, Vanity Fair reports. Speaking on behalf of the couple, the publicist did not reveal the sexes or names but said both mother and the babies are "healthy and happy".
Williams and Lasichanh, who married in October 2013, are already parents to eight-year-old son Rocket. Revealing her pregnancy, Lasichanh was first seen with her baby bump at the Chanel No5 L'eau party in West Hollywood in September but has rarely been pictured since.
Explaining the meaning behind Rocket's name, Williams told Oprah Winfrey in 2014: "In the same way the Indians named their children after a force or animal or element, we named him after a man-made machine that was meant to go up, meant to ascend."
The Happy singer added: "Metaphorically, it was because of, you know, Stevie Wonder's Rocket Love, Elton John's Rocket Man and Herbie Hancock's Rocket. All of my favourite musicians. And his middle name is not Man. It's Ayer after Roy Ayers."
The 43-year-old music producer also gushed over becoming a first-time father in an interview with the Today show, telling host Savannah Guthrie: "The bestie thing is awesome. Every night is like a sleepover."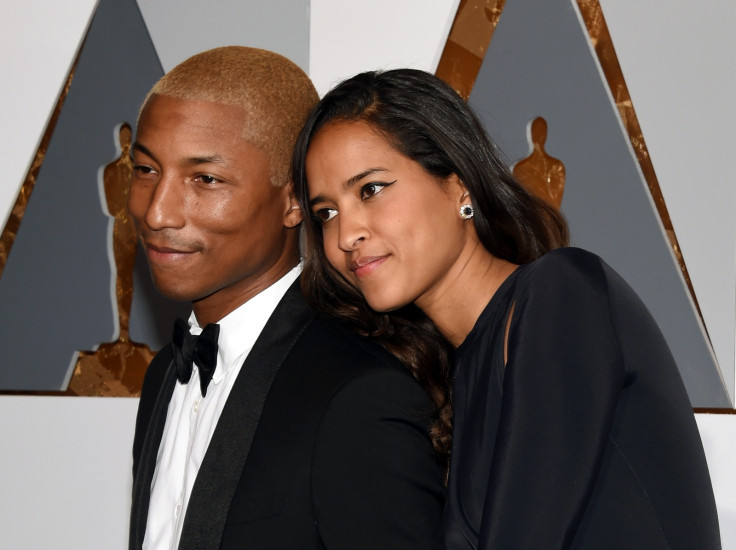 While they have a strong marriage now, Williams admits his relationship with Lasichanh was rocky at the start due to his fears of settling down. The musician told Winfrey: "I hurt her a lot in the very beginning once she was free and was available, because I had given her all of this attention but I wasn't ready to like, let go [of his bachelor lifestyle]. I looked at my life and I was like: 'Man, I could keep doing this for another 10 years, is that what I want to do?' And so I made a decision. And then we made a decision and just started dating."
Over the last couple of months, the N.E.R.D. producer has been a notable face on the awards circuit due to his involvement with the critically-acclaimed drama Hidden Figures. Williams produced the Oscar-nominated film and also spearheaded the soundtrack, collaborating with composers Hans Zimmer and Benjamin Wallfisch.
Listen to Pharrell Williams' Happy: