Philip Hammond visits China as enormous gold statue of Mao Zedong is erected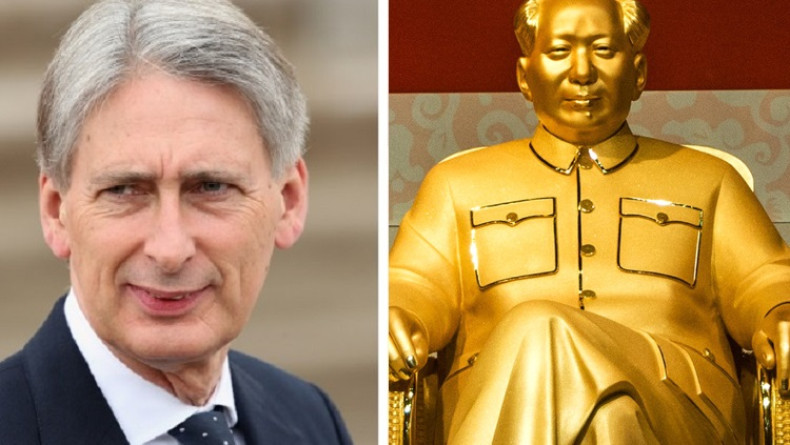 Foreign Secretary Philip Hammond's trip to China could be overshadowed as an enormous gold-painted statue of communist dictator Mao Zedong has been unveiled in Tongxu County. The statue is estimated to be around 37 meters high and reportedly cost local businessmen 3 million Chinese yuan ($459,886, £312,610).
But the project has already proved to be controversial since the statute is situated in Henan, according to Agence France-Presse. The province was one of those hit hardest by the Great Chinese Famine, which left at least 15 million people dead between 1959 and 1961 during Chairman Mao's regime.
The news comes as Philip Hammond starts his two-day official visit of China. The trip will be his second in six months and follows President Xi's state visit to the UK. The Foreign Office were unable to tell IBTimes UK if human rights would be on Hammond's agenda, but the ministry said the foreign secretary would discuss the threat of the Islamic State (Isis) and the political situation in Syria.
Hammond will also discuss other "foreign policy priorities", including Afghanistan, peacekeeping and the UK's support for the rules-based international system with Foreign Minister Wang Yi.
Speaking ahead of his visit to China, Hammond said: "The successful state visit of President Xi last October established a new global strategic partnership for the 21st century between the UK and China.
"Given the pressing challenges we face, whether it is countering the threat of Daesh, providing humanitarian assistance in the Middle East, working to take forward UN Security Council Resolution 2254 in order achieve a Syrian-led and Syrian-owned political transition, or securing stability in Afghanistan, as fellow permanent members of the UN Security Council, the UK and China have an important role to play."