Philippines Army loses 15 soldiers during clashes with Abu Sayyaf militants in Sulu province
The deaths were reported on Monday during three separate clashes with the militants.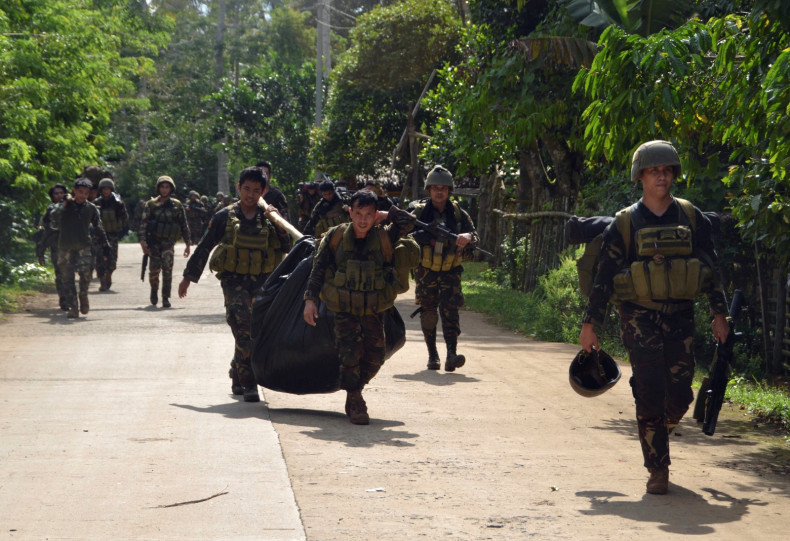 The Philippines Army said that 15 of their soldiers have lost their lives on Monday (29 August) in the ongoing battle against Abu Sayyaf in the Sulu province. Until Sunday, the army had said they suffered no casualties and succeeded in killing at least 21 militants in Patikul, Sulu province since 26 August.
The army started their offensive against the terrorist group, also said to be allied with the Islamic State (Isis), after President Rodrigo Duterte's encouragement. The president last week told his forces to "destroy" Abu Sayyaf that is responsible for abductions and brutal killings of several innocent people, including foreigners.
The fiercest clash on Monday took place at around 4.30pm local time (11am BST) in Sitio Kan Jalul in Barangay Maligay in Sulu between "more or less 120 heavily armed terrorists" and the government troops, Marine Col Edgard Arevalo, chief of the Public Affairs Office of the Armed Forces of the Philippines, was quoted as saying by GMA News Online.
He added that the government troops included the Philippine Army's 35th Infantry Battalion and 21st Infantry Battalion. He also said they were yet to determine the extent of casualty suffered by the militant group.
This clash was preceded by two other clashes — one at around 1.50pm local time in Sitio Kugan, Barangay Bakung in Patikul and the other at around 3.42pm local time Barangay Kuttong in Talipao, Sulu.
In the first clash, the Infantry Battalion led by Lt Col Presco Lobos clashed for almost 30 minutes with more or less 30 heavily armed Abu Sayyaf fighters, who were being led by sub-leader Jamiri Jawong Jauhari, the Philippines army said. Two militants died in the clash, including Jauhari, but the government forces faced no casualties.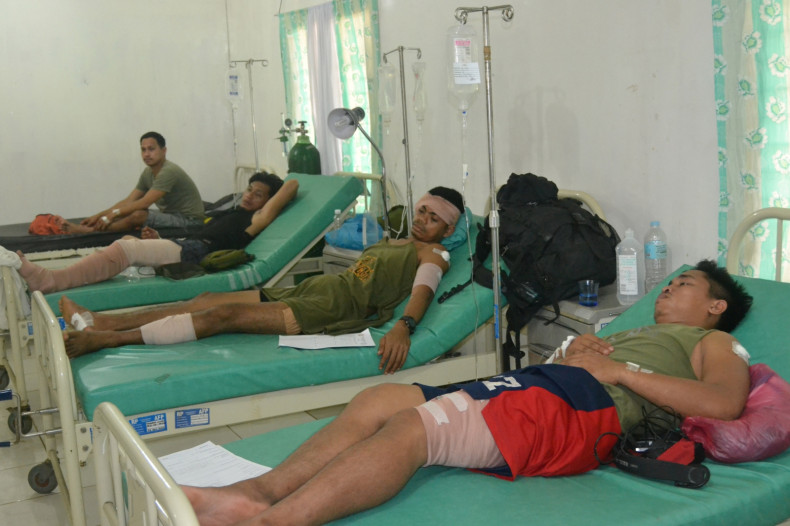 Almost two hours later, army troops led by Lt Col Samuel Manzano clashed with more or less 80 Abu Sayyaf militants for about half an hour that again resulted in two militant deaths. Two soldiers were also wounded in the gunfight.
General Ricardo Visaya, chief of staff of the Philippines army, reportedly said their fight against Abu Sayyaf will continue despite the casualties suffered by the army. "There may still be casualties along the way as we advance this solemn duty to eradicate these bandits and terrorists of 25 years, but we will not stop until we rid our country of the menace this ASG brings to the world," Visaya added, using the locally used acronym for Abu Sayyaf Group.