Abu Sayyaf militants, a group of Islamic State-linked Islamist separatists in the remote southern Philippines, have clashed with government forces and have incurred heavy losses, with at least 15 militants dead.
The group, which has attracted attention for high-profile kidnapping cases of foreign tourists − in some cases executing its hostages, is reportedly under siege at a camp in Basilan Island's al-Barka township.
In September 2014 Abu Sayyaf's leadership, including figurehead Isnilon Hapilon, pledged allegiance to the Islamic State (Isis) leader Abu Bakr al-Baghdadi and his self-declared Caliphate in the Levant.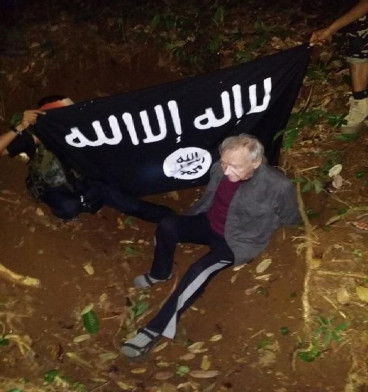 They are currently holding two Canadians, a Norwegian and a Fillipino, who were abducted in September. Abu Sayyaf has demanded more than $60 million (£40m) for the release of the three foreigners.
The Associated Press reported 15 members of Abu Sayyaf had been killed as troops advanced further into militant-held territory. Three soldiers have been killed in the ongoing assault, with 20 wounded.
Filipino military spokesman Filemon Tanwas was quoted as saying the majority of government force casualties had been inflicted by Abu Sayyaf snipers.
"If we become careless in our advance, we will have many fatalities," he explained. The militants' al-Barka camp is reportedly located in a mountainous area and cannot be easily reached by armoured vehicles.
The casualty figures are based on reports from Filipino soldiers as Abu Syyaf fighters retrieve the bodies of their dead and wounded.
In November Abu Sayyaf beheaded Malaysian hostage Bernard Then Ted Fen in an ostentatious act of violence, which has become IS's calling card throughout the world. Then Ted Fen was killed in the jungle not far from the Indanan town in Sulu province on 17 November.
Abu Sayyaf has demanded $60m (£40m) for the release of the three foreigners. In October 2014 the group claimed to have been paid 250m peso (£3.4m) for the release of two German hostages who were held for seven months.
The US previously designated the group a terrorist entity for its connections to al-Qaeda. The loose group, numbering several hundred fighters, uses ransom money to fund its Islamic separatism campaign in southern Philippines and has survived decades of US-backed campaigns against them.