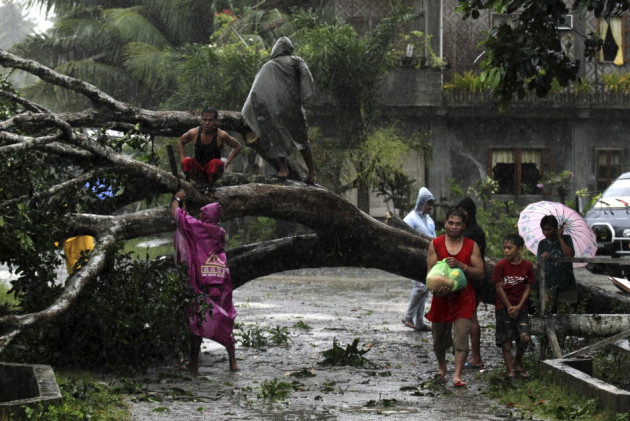 A powerful typhoon lashed the southern Philippines killing at least 50 people.
More than 50,000 people were evacuated, as Typhoon Bopha made its landfall in the Davao region.
Bopha's heavy rains caused extended floods, while winds of up to 195 kph (121 mph), toppled trees and ripped roofs.
At least 200 people including some Filipino soldiers drowned, washed away by a torrent of water in New Bataan town in hard-hit Compostela Valley province.
Governor Arturo Uy said waters swept away an army truck that was carrying soldiers and civilians and inundated a school and village hall where displaced villagers had found shelter.
Earlier in the same Compostela Valley, three children were killed by a wall of mud and rocks that slid down onto their house.
"The only thing we could do was to save ourselves. It was too late for us to rescue them," said Valentin Pabilana, who survived the landslide.
An old woman and a man were also killed hit by falling trees in two separate accidents in other cities, Benito Ramos head government's disaster-response agency said
Ramos said he is expecting the death toll to rise since some villages have been cut-off by floods, power cuts and damaged communications, preventing rescuers and security forces to reach them.
The 600-km wide typhoon is heading west and will struck the central Philippines to then move over the South China Sea, according to weather forecasts.
President Benigno Aquino III appealed on national TV for people on the Typhoon's path to take the take storm warnings seriously and evacuate the areas.
"This typhoon is not a joke," Aquino said. "But we can minimize the damage and loss of lives if we help each other."
Bopha is the strongest of the 16 typhoons that have hit the Philippines this year. Another storm is expected before Christmas.
Last year Typhoon Washi killed about 1,500 people in the southern Philippines.