A controversy over China's far-from-generous contribution for typhoon relief to the Philippines has been heated up by a Communist party mouthpiece that branded Manila as ungrateful for the $100,000 (£62,000) it received from Beijing.
An editorial piece by the Southern Daily, the official Communist Party newspaper in Guangdong, accused Filipinos of being too demanding.
"The Chinese government and people have never begrudged 'love' for the Philippines, but the Philippines is obviously not content or even appreciating of China's 'love', only expecting 'more love' from China," the article entitle titled 'China Never Short of Love for the Philippines' read.
The article rebuked suggestions that China's response had been affected by territorial disputes between the two countries.
Typhoon Haiyan, locally known as Yolanda, has killed at least 2,300 people but authorities expect the death toll to rise up to 10,000.
Paralysed government agencies have not been to supply food, water and medicine to the desperate survivors, while widespread looting of food shops and a stampede revealed the level of desperation in the affected areas.
Manila received a total of less than $2m from China, including $100,000 from the government, another $100,000 from the Red Cross and $1.64 million in tents, blankets and other goods.
The donation was described as "measly" and "insulting" by Time magazine for it was significantly smaller than amounts provided by other words superpowers and even private entities.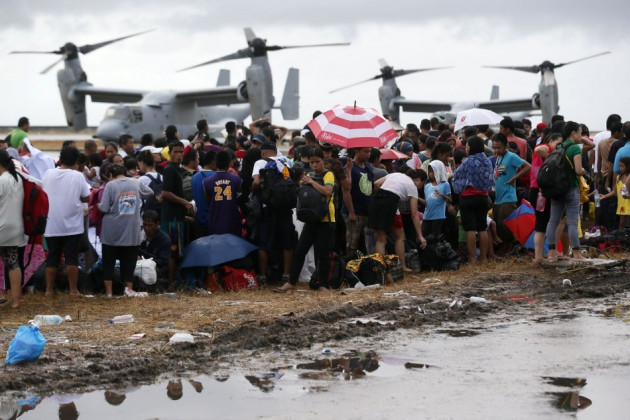 The US pledged $20m and sent in aircraft carrier USS George Washington as part of a massive military-led rescue operation.
Britain donated a $16m worth of humanitarian goods and also deployed military vessels and aircrafts in aid of recovery efforts.
Japan offered $10m plus to troops, ships and planes and Australia $28m.
Even Swedish furniture giant Ikea gave more than China - the world's second-largest economy - offering $2.7m through its charitable foundation.
Beijing and Manila have been embroiled in a bitter feud over territories in the South China Sea in recent years and many Chinese shared the government stance on relief aid.
"Why should we donate to the Philippines so that they can arm themselves with warships and aircraft? Fu Yao, a popular maker of micro-films, wrote on his miniblog.
"Is the Philippines a country that understands gratitude? Didn't we show our warm heart to the country? What did we get from that? Nothing."
However some analysts suggested Beijing missed an opportunity to boost its role as regional powerhouse in Southeast Asia by lacking in generosity.
"China has missed an excellent opportunity to show itself as a responsible power and to generate goodwill," said Zheng Yongnian, a China politics expert at the National University of Singapore. "They still lack strategic thinking.
"They still think they can get their way through coercion," Zheng said.