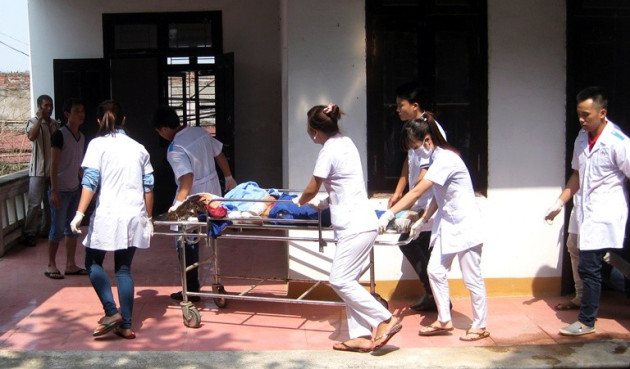 At least 21 people have died and many others have been injured, some severely, in a huge explosion at a fireworks factory in Phu Tho province, Northern Vietnam. Many of the injured were taken to a specialist burns centre near Hanoi 75 miles (120km) away. The military-run factory employs around 300 people, but as it was Saturday there were fewer casualties than might have been expected.
The explosion, which could be heard up to six miles away, blew off roofs and blew in windows in nearby houses. A plume of dark smoke hung over the area for many hours. All residents living within a 10-mile radius - around 2,000 people - were asked to evacuate the area as authorities attempted to prevent fires from reaching two nearby warehouses where explosives are stored. A police official in Phu Tho told AFP that the fire has now been brought under control.
Phi Xuan Trung, chairman of the local Khai Xuan commune, told the VNExpress news site: "The first blast was at 7:55am -- and then there were continuous explosions for some hours. There was a strong smell of gunpowder, the ground was shaking many kilometres away."
Eye witness Nguyen Nhu Quynh told VNExpress: "After the first explosion, my house was shaking and the door smashed open."
Another woman told local media: "I couldn't recognise my daughter, she was burned from her face to the soles of her feet. She was pregnant, she couldn't escape the explosion quick enough."
In Vietnam, home-made firecrackers have long been used to celebrate weddings but in 1994 the government banned these in favour of fireworks, which can only be manufactured in state-approved facilities.
Fireworks have been responsible for several major disasters in recent years. In 2000 an explosion at Enschede in the Netherlands killed 22 people. In another incident in Istanbul, Turkey in 2008, at least 22 people died. In 2010 fireworks exploded at Hanoi's My Dinh stadium, killing four people. That explosion was blamed on carelessness as two containers of fireworks were being transported. The cause of this morning's explosion in Vietnam is yet to be established.