A massive fire engulfed a rooftop restaurant in Mumbai, killing 15 people, including a woman celebrating her birthday and ten women who were guests at her party. Fire officials said 14 of the victims have been identified, and there is one unidentified body.
Local reports say the entire restaurant, 1 Above Rooftop, where the fire broke out at around 1am, was engulfed within minutes. A false ceiling made of dry bamboo and tarpaulins helped the fire to spread faster. Within 30 minutes, the entire four-storey building was in flames. Firefighters battle for eight hours to bring the inferno under control. Photographs show the extent of the fire, with the entire complex reduced to a blackened shell of twisted wreckage.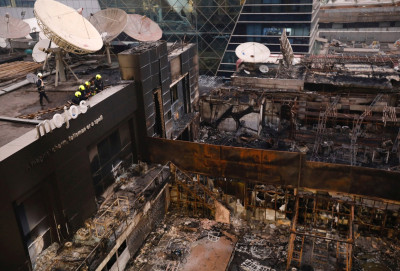 "There was a stampede and someone pushed me," Sulbha Arora Mumbai, a Mumbai gynaecologist, tweeted. "People were running over me even as the ceiling above me was collapsing in flames. Still don't know how I got out alive."
The building is located in Kamala Mills, a sprawling former textile compound that has been redeveloped with upmarket restaurants and offices and has become a popular nightspot in Mumbai, India's financial and entertainment capital.
Several TV news channels operating from the compound had to shut down some of their broadcasts, reportedly due to equipment damage. "It was not only difficult but impossible to move out the front door, so we tried to move out our other emergency exit, even though fire balls were falling down," said Sharad Jadhav, a producer for TV-9. "Somehow I managed to get everybody out of the place one by one, and then I came out, and when we came out the roof of the restaurant came crashing down."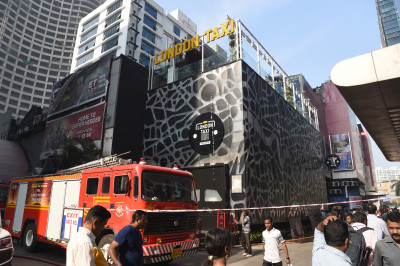 More than 50 people were taken to KEM hospital. Twelve were treated for non-life-threatening injuries, said Avinash Supe, a doctor at the hospital. Supe said the deaths were caused by both burns and suffocation. Police have filed a case of culpable homicide against the owners and the manager of the restaurant. No arrests have been made.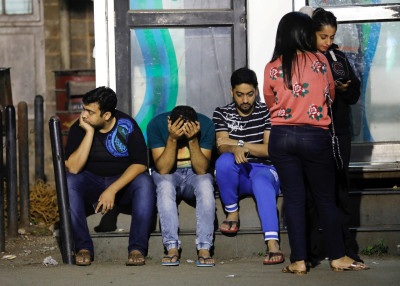 Prime Minister Narendra Modi tweeted: "Anguished by the fire in Mumbai. My thoughts are with the bereaved families in this hour of grief. I pray that those injured recover quickly."