Firefighters are battling to contain at least four wildfires marching across southern California, whipped up by fierce Santa Ana winds. The largest and most destructive of the fires is in Ventura County, northwest of Los Angeles. By Tuesday night, the Thomas fire had covered an area of 85 square miles (220 square kilometres) and had reached the Pacific, 30 miles (48 kilometres) away from where it had started a day earlier.
The fire had destroyed at least 150 structures, but incident commander Todd Derum said he suspected "hundreds more" would be lost when flames died down enough to make a thorough assessment.
Mansions and modest homes alike in Ventura were consumed by the fire. The Hawaiian Village apartment complex burned to the ground. The Vista del Mar Hospital, which treats patients with mental problems or substance abuse, including veterans with post-traumatic stress syndrome, suffered fire damage. All patients were safely evacuated.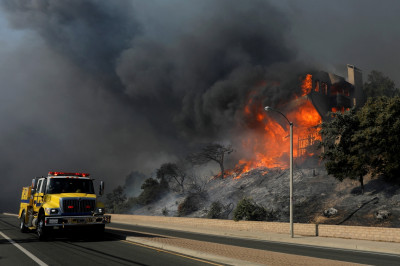 Another blaze, in the San Fernando Valley on the northern edge of Los Angeles, was estimated to cover more than 17 square miles (44 square kilometres). The Creek Fire forced the evacuation of 2,500 homes near the city's Sylmar neighbourhood.
As the Creek Fire approached ranches near Sylmar, horse owners scrambled to get their animals to safety. There were unconfirmed reports that some were left behind and as many as 30 horses may have been injured or killed.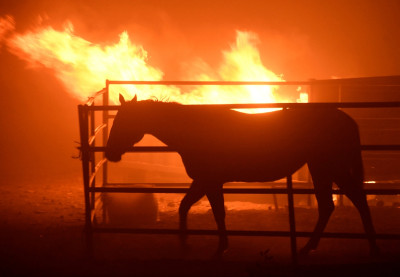 In addition to prompting hasty evacuations, the fires shut down two freeways for hours and sent heavy, acrid smoke billowing over the Los Angeles area, creating a health hazard for millions.
There were no immediate reports of any deaths. Two people were critically injured in a small San Bernardino County fire, but no other serious injuries were reported. The fires were under investigation and no causes had been found.
The fires are being fanned by dry Santa Ana winds with gusts of well over 60mph, spitting embers up to a half-mile ahead of fire lines. Southern California's Santa Ana winds have long contributed to some of the region's most disastrous wildfires. They blow from the inland toward the Pacific Ocean, speeding up as they squeeze through mountain passes and canyons.
The same vicious winds are also making the firefight more difficult. The water-dropping planes and helicopters essential to taming and containing wildfires have been mostly grounded because it's too dangerous to fly them in the strong wind.
The fires came just eight weeks after the deadliest and most destructive series of wildfires in state history burned through Northern California and its fabled wine country and killed 44 people dead and destroyed 8,900 homes and other buildings.
Fires are not typical in Southern California this time of year but can break out when dry vegetation and too little rain combine with the Santa Ana winds. Hardly any measurable rain has fallen in the region over the past six months.
Fires are likely to become more frequent as climate change makes fire season a year-round threat and will put greater pressure on local budgets, said Char Miller, a professor of environmental analysis at Pomona College who has written extensively about wildfires. "There are going to be far greater numbers that are going to be evacuated, as we're seeing now," Miller said. "These fires are not just fast and furious, but they're really expensive to fight."