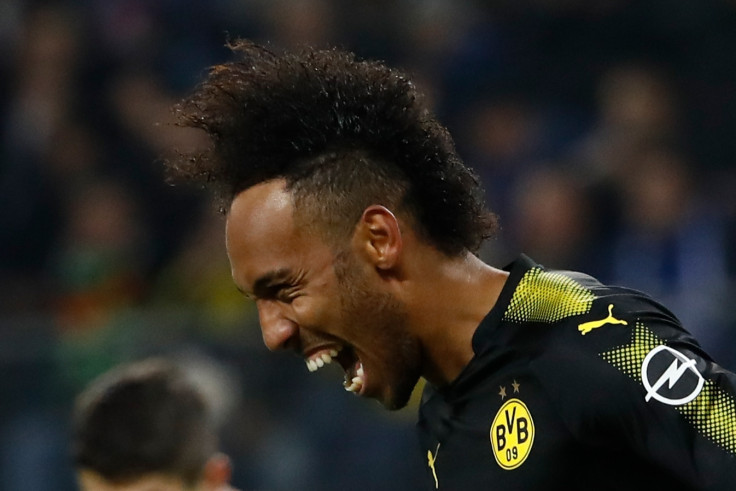 Borussia Dortmund striker Pierre-Emerick Aubameyang has indicated that his failure to join Real Madrid in the summer transfer window has ended any interest in a move to the Bernabeu. The Gabon international was free to leave the Bundesliga giants during the off-season but the La Liga and Champions League winners overlooked Aubameyang despite missing out on signing Kylian Mbappe from Monaco.
Real had been tipped to make a late move for the 28-year-old after Mbappe chose to remain in France and join Paris Saint-Germain on loan with a view to completing a permanent move to the Parc des Princes in 2018 for £166m. But the deal never materialised even though president Florentino Perez remains keen on recruiting the 2015 African footballer of the year, according to Don Balon.
Dortmund had given permission for Aubameyang, who has scored 129 goals in 197 games during four seasons with the club, to leave in the summer. But Real's refusal to come in with an offer – the 1997 European Cup winners reportedly wanted €70m – left him frustrated over a failed move which he has previously described as a life ambition.
"I have no more dreams," he told RMC. "I shall no longer speak of Madrid, I have made it. I am very good at Dortmund. I feel that the clubs do not dare to come too close to take me. Maybe they do not want me anymore.
"People who underestimate me, I will continue to prove to them what I can do, where I am. I am inevitably frustrated, we had agreed with Dortmund. I had to leave this season, it did not happen. There is disappointment, but whatever happens, I'm happy to stay because I feel good here. It's not a problem, we're going to work hard here."
Whether Real will return with a bid for Aubameyang remains to be seen. Karim Benzema has agreed a new deal until 2021 with the Spanish champions, and with Isco and Marco Asensio having emerged as key players for Zindine Zidane alongside Cristiano Ronaldo and Gareth Bale, the ex-Saint-Etienne forward may struggle for a regular starting place.
Aubameyang appeared destined to leave Dortmund this summer with Marseille and clubs from China also linked with his services, as well as Real. But while the hitman, who netted 46 goals in all competitions last season, received no offer from the Ligue 1 side and admits a move to the Chinese Super League was never an option.
"As far as Marseille is concerned, it's a historic club and it may be interesting, but I'm not too sure about their project, but it's only a matter of opinion," he added. "In the sun on the European stage, we will have to do a little better. If we take the difference, then Paris has deployed a lot of resources, but good somewhere they showed they wanted to win.
"I did not really take [China] seriously, it was lacking in professionalism, so I gave in. They went out of their way to send us a written offer, either to the club or to me. a disaster, frankly, they came here, they left, they said they were going to come back and they did not come back. "