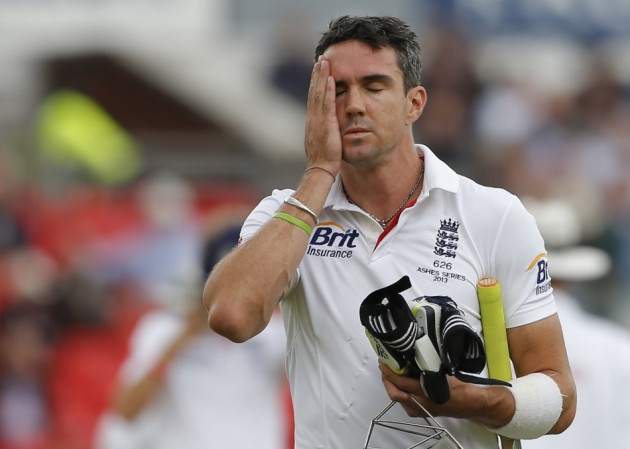 England batsman Kevin Pietersen has reacted angrily to Australian media reports suggesting he applied silicon tape in order to cheat cricket's controversial decision review system during the third Ashes Test at Old Trafford.
Pietersen was given out caught behind in the second innings by umpire Tony Hill but reviewed the decision, a ruling that was subsequently upheld by third umpire Kumar Dharmasena despite HotSpot showing no clear contact between bat and ball.
The 33 year old was given out on the grounds of the noise as the ball passed the outside edge but was visibly furious as he left the field.
Channel Nine News reports players from both England and Australia, including Pietersen, have applied silicon tape - which works as a bat adhesive and can block the detection of heat signatures - with the intention of cheating DRS. The use of silicon tape is not currently outlawed by the International Cricket Council.
And Pietersen, who scored 113 in the first innings on the way to England securing the draw which retained the Ashes, is furious at the accusation.
"Horrible journalism yet again! My name brought up in hotspot crisis suggesting I use silicon to prevent nicks showing! Such hurtful lies," Pietersen wrote on Twitter.
"I am never afraid of getting out! If I nick it, I'll walk. To suggest I cheat by covering my bat with silicon infuriates me.
"How stupid would I be to try & hide a nick when it could save me on an LBW appeal, like in 1st innings where hotspot showed I nicked it."
While silicon tape may indeed prevent the detection of edges behind via HotSpot its use would risk nicks not being highlighted in relation to LBW appeals.
The story is the latest to surround the divisive DRS technology during an Ashes series which has seen each Test dominated by a spate of controversial dismissals.
The Guardian understand ICC director of cricket operations Geoff Allardice will fly to Durham to hold urgent talks with England coach Andy Flower and Australian counterpart Darren Lehmann ahead of the fourth Test starting on Friday in an attempt to clarify the process by which third umpires make decisions. Both sides have sought explanations from the ICC during the series.
England wicketkeeper Matt Prior says the players have lost faith in the HotSpot technology which inventor Warren Brennan admitted a fortnight ago can miss fine edges.
HotSpot makes up part of the DRS technology available to the third umpire during a Test match, with slow-motion cameras, Hawk-Eye video replays and stump microphones also used to respond to on-field referrals.
Captains Alastair Cook and Michael Clarke have both supported the use of DRS during the series, but the Aussie skipper has moved to defend his players against accusations of illicit behaviour.
"I find the accusation quite funny," Clarke said.
"I can't talk for everybody but if it is the case we are talking about cheating, I tell you there is not one person in the Australian changerooms who is a cheat. That's not the way we play cricket.
"I know no one is going to the extreme of saying 'put this on your bat because it will help you beat Hot Spot'."