With just four months to go before Pippa Middleton walks down the aisle for her fiancé James Matthews on 20 May at St Mark's Church in Englefield, Berkshire, almost royal preparations for the wedding are reportedly in full swing. People are also eager to know whether her wedding dress will have an elegant train like that of her sister Kate, or will the Duchess return the favour and serve as maid of honour.
As a lucky few get invited to the wedding of the year, here's everything you need to know about Pippa and James' upcoming nuptials:
Save the Date cards and the nearly-royal guest list
The younger Middleton sister's wedding will not be a global spectacle as the guest list for her private reception is expected to be between 350 and 400, yet it will comprise some A-listers, royals and her future brother-in-law Spencer Matthews and his Made In Chelsea friends.
As for the invitation cards, Pippa seems to have chosen a rather luxurious but traditional design – engraved black on white card – printed by the Mount Street Printers, according to Daily Mail.
Pippa's 'no puffballs' bridal gown
All eyes will be on the 33-year-old bride and her exquisite bridal dress as she walks down the aisle on her wedding day. Pippa will most likely be seen in a white, flowing gown with an elegant train and a veil, and if rumours are to be believed, it will designed by none other than Giles Deacon.
"No puffballs, but she adores lace and long sleeves. There won't be too much embellishment. It will be something that shows off her amazing figure but not look like the bridesmaid's dress," a source told the publication.
While 47-year-old Deacon seems to be a favourite, other contenders for designing Pippa's wedding dress include Jenny Packham, Emilia Wickstead and Alice Temperley.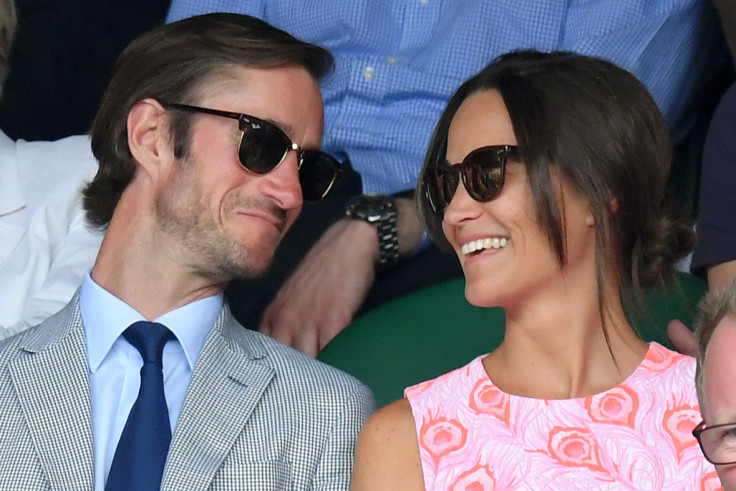 Flowers, food, and the backyard reception
Royal colours – blue, red, and white – are expected to set the tone for Pippa's wedding ceremony. According to insiders, canopies of peonies or hydrangeas may be hung overhead at the venue to complete the decorations. In fact, rumour has it that Pippa may even wear a floral headpiece instead of a traditional tiara.
Unlike her sister Kate's Westminster Abbey celebrations, Pippa has opted for a homely reception at her parent's Bucklebury home's backyard. Carole and Michael Middleton's Grade II-listed manor house will reportedly host the marquee celebrations, where famous caterers Admirable Crichton will serve up the food.
"It will be blingtastic. The best champagne, Krug or Bollinger, and a specially devised champagne cocktail. Pippa and James have a penchant for Blanc de Noir Tillington 2009 from Nyetimber at £75 a bottle — and wonderful food. No expense will be spared," a source said about the anticipated reception.
"This isn't a bangers-and-mash, sitting-on-hay-bales affair. Pippa is hardly a floaty bohemian type."
George and Charlotte – the adorable page boy and flower girls
While royal enthusiasts across the world may be looking forward to seeing Kate as maid of honour at her younger sister's wedding, so far she is only tipped to be doing a reading alongside their brother James Middleton.
Reports also claim that James' reality TV star brother Spencer may serve as the best man. However, it will be young Prince George and Princess Charlotte, who will be the apple of the eye if they turn up as page boy and flower girl at their aunt's wedding, as per reports.
Although the wedding details are yet to be confirmed by the bride and groom, more exciting news is expected before Pippa finally says "I do" to Matthews.