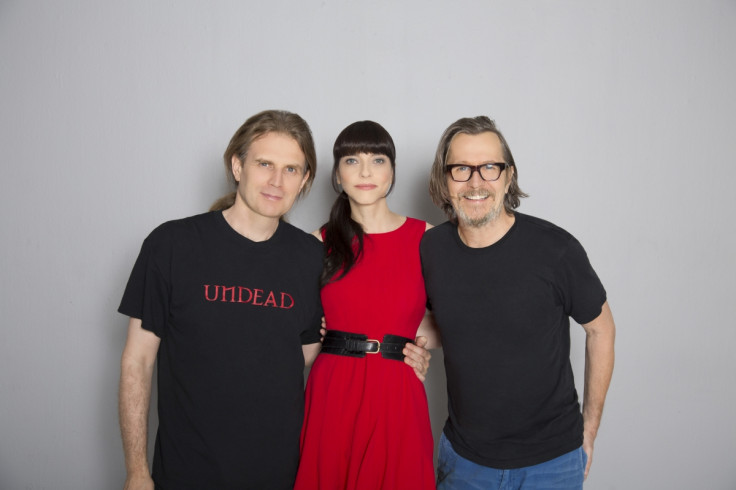 Actress, director and producer Juliet Landau (Drussila of Buffy The Vampire Slayer, Angel) is creating a unique documentary on vampires. The film is a "first of its kind" as it managed to bring the Who's Who of the genre for one ultimate movie. In the movie, which is scheduled to premiere in 2016, Landau takes intimate and revealing interviews with some of the greatest artists who would talk about how they interpret the subject.
Started as a small project, the movie have grown to become a highly anticipated documentary in the genre and now the Ed Wood actress and her husband Deverill Weekes are seeking funds to make the ultimate vampire documentary titled A Place Among The Undead.
In an exclusive interview with IBTimes UK the actress/director spoke about her amazing experience during the filmmaking process, which includes interviews, fictional parts and above all exploring vampirism that has a very deep impact on Hollywood movies, TV series and of course, people.
What inspired you to do a documentary on the Vampire genre?
I was extremely fortunate to work with the brilliant Joss Whedon and to play Drusilla on Buffy The Vampire Slayer and Angel. The idea has been percolating because whenever I've hung out with creators, writers, directors, actors, who have lived in the vampire universe, I've had the best conversations with them. And I've always thought, I wish other people could see this, the stuff that's never been shared before on films and it's really the insider's view into the vampire phenomenon. So my husband [Deverill Weekes] and I said, "This is it, we're gonna do it." And it has just grown beyond our wildest expectations.
Interestingly, your documentary says, 'listen to what the Undeads talk about'
The film transcends the traditional idea of a documentary. It has interlinking narrative films inspired by the conversation because when I talked to each of the creators... for instance I spoke to Joss Whedon about Buffy The Vampire Slayer. He talks about the metaphor of vampirism...to look at high school as nightmare.
I talked to Kevin Grevioux who created Underworld and he said he actually created that based on his experience with interracial dating. So he created two species - one being vampires who don't get along.
When we talked to Anne Rice who wrote Interview With The Vampire her daughter had just died. She created Claudia, a child character who lives forever and obviously she [her daughter] died of leukaemia, so blood disease, vampires and all of that and she said it's all about loss and grieving.
We talked to Joss about angels and he says he uses vampirism to look at addiction. And we talked to Tim Burton and he says dark shadows are about family dysfunction. So I think one of the reasons that we have been fascinated with vampires as a culture - and it has such strange power culturally that we can use this metaphor to look at ourselves and look at the human condition and family in different ways.
Will there be fictional elements in the documentary?
Yes. It will be exactly that. It will have all the interviews interlinking it with the short films that are fictional as well.
What part of the film, according to you, is exciting?
I can't really take one aspect because I really think there is so much to it that's been fascinating. I think the interviews, I mean the narratives we shot in New Orleans already and one in London and that's been really phenomenal.
The legends about vampires have a deep impact on movies, TV series. So are you going to document these sentiments in the film?
We are looking at different metaphors like why that's been such an important way of storytelling. And I think it reflects so many different parts of our own nature. So basically, they look like us, they also reflect our desire to live forever.

When you started the documentary, you said it was meant to be a small project and with time the project turned bigger and which is why you needed crowdfunding...
My husband and I were self-funding the project and it just kept growing and we actually have met with a number of production companies who want to invest but we really want to make a film that fans want to see. We had one meeting with this company who said, "Ohh we love the idea and the budget looks great, we want to give you money but why don't you cut out the Hammer? It's not as hip as everything else you have." We are like, "You can't make the definitive vampire documentary and not include Hammer. There's no way."
So yes, we are on Indiegogo.com and we are working with producing partners that are coming on board and joining the Undead with us.
You are also giving rewards to people who are financially contributing to the project
Yes, there are all kinds of rewards. We have this amazing Gary Oldman and his photographic book, which features the photos that Gary took on his Victorian camera from 1853. He has taken beautiful portraits of a number of interviewees including Joss Whedon, and Robert Patrick, and myself, and many other interviewees. The pictures are exclusive and they will be nowhere else. And we also have Undead T-shirts and we have posters from Georges Jeanty, the comic book artist for Buffy season 8 and 9 — because the series continued in comic books after it went off the air.
Any current Vampire series or movies of recent times that you plan to feature in your film?
Yes, we will absolutely be covering the Twilight series, Vampire diaries. The material is so vast that it may turn into a TV series. It may end up being you know, three-part, six-part just because the subject is so so vast.
How did Buffy the Vampire inspire you to do the series?
It definitely had a big impact on me. The funny thing is I never thought I would revisit vampires. The thing that's been fascinating for me, I was inside it and working as an actress. It was one perspective and I really never thought so much of the character as a vampire. It's only sort of now, that I am looking at it from a different perspective. Because I am not inside the character and I am looking at the vampire phenomena.
Apart from the Undead documentary, what are the other projects you have been involved in?
I did a movie in Africa called Where The Road Runs Out, where I play a missionary. And then I did the The Bronx Bull, which is the prequel and sequel about Jake LaMotta's story. William Forsythe plays Jake, and I play a movie starlet. I've also been doing the Doctor Who Big Finish audio books, where I've been playing the reincarnation of the iconic character Romana. That's been really cool. My husband's favourite doctor is Tom Baker, and that era, and he was like, "This is the best job you've ever got. All you have to do is watch Doctor Who."
When do you plan to premiere the Undead documentary movie?
It would probably be one year from now, because we shot 50% of the movie and we are actually making two feature documentaries. A Place Among The Dead which covers crime, reality, when people take the fantasy of vampirism too far. And then we have Place Among The Undead which covers every aspect of vampirism and pop culture.