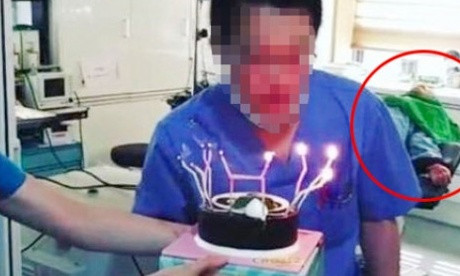 Plastic surgeons in South Korea face investigation after the emergence of selfies which show them playing pranks and having a party in the operating room.
The images, which were posted on social media, capture staff at the Jewelry Plastic Surgery Centre eating hamburgers and birthday cake, and playing around with breast implants.
In one of the shots, a man dressed in a blue medical uniform is seen blowing out a birthday cake while a patient lies on a bed behind them, apparently unconscious.
Another image shows staff eating hamburgers in the hall, while a third shows a female member of the team cupping an implant to her chest inside the surgical theatre.
The images were posted on Instagram by a member of staff at the clinic, which is located in the district of Gangnam - one of South Korea's wealthiest districts, and the nucleus of the country's plastic surgery industry.
The clinic has since confirmed that the staff who posed for the selfies were doctors or assistants, and said: "We are left devastated for causing such concerns among our clients ... because of the senseless behaviour.
"We offer our deep apology ... and will conduct thorough safety training for all our staff members."
Gangnam's Department of Health has released its own statement, saying that "our staff are investigating this clinic to see whether they have committed any violation of medical law."
"They may look into whether such behaviour damaged the reputation of medical practitioners."