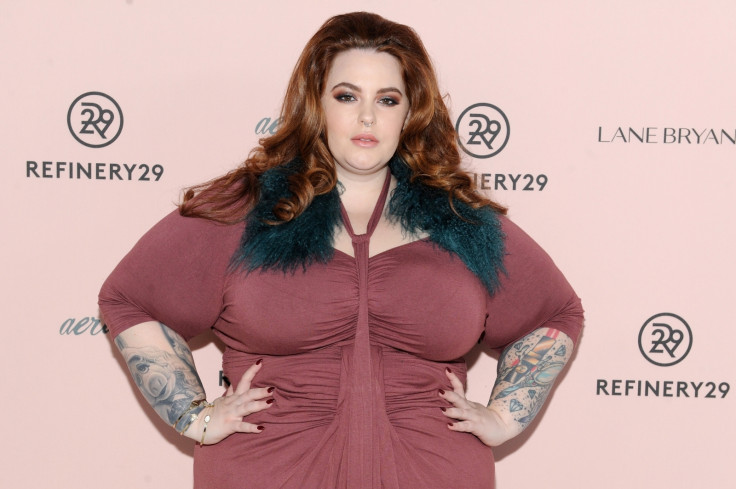 Model Tess Holliday is proud of her plus size body. The body positive activist recently took to social media to share a topless photo in which she is wearing nothing but a pair of sheer-black underwear, and flaunting her many tattoos on her hands and thighs.
Holliday, whose real name is Ryann Maegen Hoven, hid her breasts with her hands and captioned the Instagram post saying, "Shot some #polaroids with @anastasiagphoto in NYC last week."
Revealing that fat people have a lot of sex, the plus size model continued, "When I saw them, & how hot (& obviously unretouched) they are, I was reminded of a 'Tess Holliday's Advice for Life' that are all throughout my book. It goes: "Fat people have sex. A lot of it. And it's really fucking good." That's all."
The mum-of-one concluded her post with hashtags "#effyourbeautystandards #notsosubtletess #thenotsosubtleartofbeingafatgirl." The social media users are applauding her for promoting body positivity.
One person called her, "winning at life", while another said she is "absolutely beautiful." One social media user commented, "I need this level of confidence," and someone else wrote, "I wish I was even 1/4 as beautiful and confident as you Tess. Xoxo." A fan appreciated the model's words and said, "Well said and may your words and beauty echo through the halls of eternity."
"Still learning to love myself but you...you're inspiring," said one follower of the plus size model.
Recently, the 32-year-old model slammed a Florida man's post about his "curvy wife", which went viral.
Holliday blasted the husband for his 'tribute' to his thick wife, and wrote on Instagram, "This is so real. Stop giving men trophies for doing the bare minimum." She captioned a screenshot on the social media site with a post that reads: "*guy likes curvy woman* 16,667 favs, national news. *curvy woman likes herself* 12 favs, 48 people in your mentions talking about diabetes."
The model is currently promoting her book, The Not So Subtle Art of Being A Fat Girl, which will be in stores on 26 September.