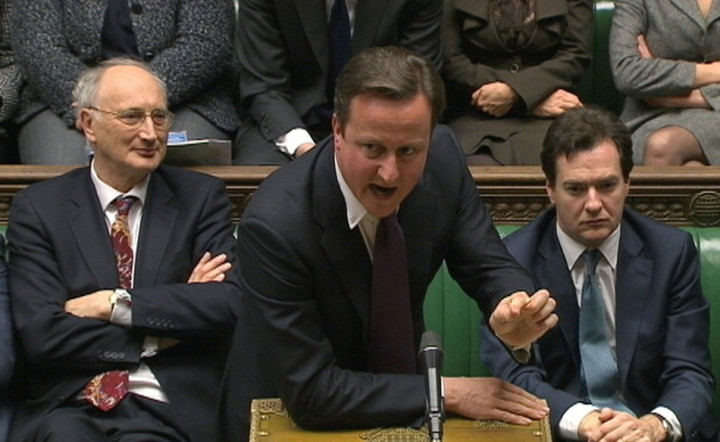 Labour leader Ed Miliband accused Prime Minister David Cameron of double standards over the "pleb" row, as the pair clashed at Prime Minister's Questions.
Miliband piled pressure on Cameron to sack Chief Whip Andrew Mitchell, over claims he called Downing Street police officers "plebs" during a row.
The prime minister backed his chief enforcer by declaring the matter closed following Mitchell's apology to the officers, which he said had been accepted.
Miliband told a packed House of Commons: "Just because a police officer has better manners than the chief whip, it doesn't mean he should keep his job.
"While it's a night in the cell for yobs, it's a night in the Carlton Club for the chief whip."
Mitchell sat on the front bench near the prime minister looking uncomfortable throughout the exchange.
Miliband added: "The chief whip is undermined. He's untenable, in other words, he's toast."
Miliband cited Tory Mayor of London Boris Johnson's words when he called for people who swear at police to be arrested. The Labour leader then lined up a list of reasons why Mitchell's own collar would get felt under such a law.
"According to the official police report, the man called the police plebs and told them they should know their place."
He continued: "If you're a millionaire you get a tax cut, and if you're everyone else you get a tax rise. They're totally out of touch. It's one rule for them and one rule for everyone else."
Cameron replied: "The chief whip was wrong, it was important he apologised and that apology was accepted by the officer concerned and the head of the Metropolitan Police and that's why this government will get on with the big issues."
Mitchell has been under constant pressure to quit since his verbal volley at police officers at the Downing Street gates. The Police Federation called on him to resign.