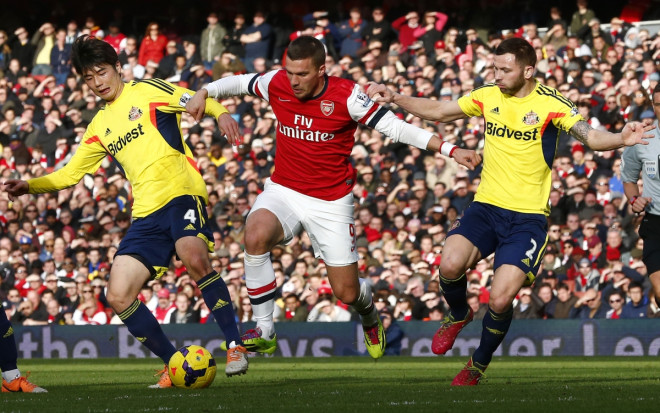 Lukas Podolski has revealed that Arsenal players have the best spirit among the clubs he has played in during the length of his career, something which will help them lift the league title.
The Gunners are currently second in the league, one point behind Chelsea and two ahead of Manchester City, who have played a game less. Having led for the better part of this season, Arsenal have slacked in recent weeks, allowing their rivals to close the gap on them.
Heavy defeats against the likes of Manchester City and Liverpool have threatened to derail their season but the Gunners have managed to script a comeback every time, something which has been highlighted by Podolski as the determining factor in their title bid.
The spirit was highlighted following their unfortunate loss to Bayern Munich in the first leg of the Champions League, where they lost 2-0 at home.
However, it was unfortunate for the Gunners, who had bossed the opening thirty minutes, missed a penalty through Mesut Ozil but fell apart when Wojciech Szczesny was sent off for obstructing Arjen Robben in the penalty box.
The Gunners put that loss behind them and annihilated Sunderland at home in their next game, going 3-0 up in the opening 45 minutes.
"The team spirit is always good here, even after defeats. This is a great team - there's a good atmosphere between us and up until now, we've had a super season. We need to keep that with us now.," Podolski told www.arsenal.com.
"I've been at a few clubs and in different dressing rooms but I've never been in a team with such a strong spirit. You feel comfortable here - be it on the pitch or off it. You always look forward to being with the team and I think that helps us in matches," he added.
The forward also praised the league for its competitiveness, which has seen that it can accommodate five to six teams for the title race.
"When you look at the table and compare it to the Bundesliga, you can see that here you've got five or six teams competing for the title. It's going to be tight until the end of the season. We've got 11 games left in the league and we have to try to find a way of winning as many of those as we can and get the points in any way possible. We want to be at the top come the end of the season," he concluded.